MARKET CAP :
$5,607,185,562,796.5
NFT Volume(7D) :
$69,323,434
(
#IDO
#GAMEFI
#BLOCKCHAIN GAMES
#NFT COLLECTION
)
Meta Masters Guild Presale Crosses $700K: Learn Why This is Changing Web3 Gaming Forever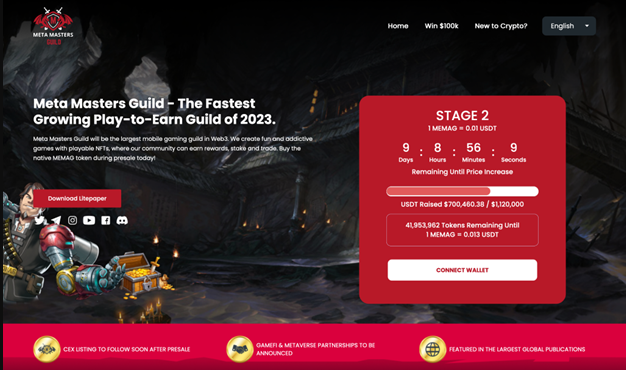 The Meta Masters Guild recently crossed the $700,000 milestone in its presale as gamers in the Web3 space continue to pile into the ecosystem that seeks to change the definition of play-to-earn.
Meta Masters Guild is gaining significant attention through its presale and is quickly becoming the fastest-growing play-to-earn platform of 2023. With a goal to become the largest mobile-based gaming guild in Web3, Meta Masters Guild will create fun and addictive games with fully playable NFTs – allowing players to earn rewards, stake, and trade.
In this article, you will learn everything you need to know about the concept behind Meta Masters Guild, how it intends to totally disrupt the Web3 gaming industry, and how to participate in the presale.
Meta Masters Guild – The First Mobile-Based Gaming Guild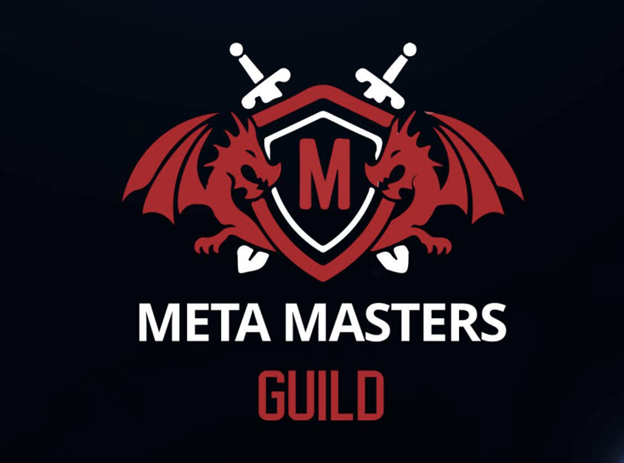 Meta Masters Guild is the first mobile-focused Web3 gaming world that seeks to totally change the dynamics behind the play-to-earn ecosystem. The project is on a mission to build high-quality, blockchain-based mobile games to form a decentralized gaming community. Inside the community, members will be able to earn sustainable rewards in exchange for their contributions to the ecosystem.
Meta Masters Guild is determined not to become just another gaming guild. Instead, it looks to be the future of Web3 gaming. They want to create a system that is designed to incentivize players to invest time and money into the gaming guild while ensuring that they are fairly compensated for their efforts.
If you are unaware, a gaming guild is not a new concept in the gaming industry. Ever since competitive gaming began, groups of players were forming communities to come and play different games together in the structure of a guild. These communities form teams and compete against other teams.
Most guilds are focused on a specific game, but others play and compete in a variety of similar games. A strong example of a gaming guild is an esports team. The guild typically provides players with guidance on how to improve their in-game skills, provides practice sessions to help the player progress, and also – in certain cases – provides financial aid to promising players that would otherwise not have the resources to continue competing.
The Meta Masters Guild is slightly different from the traditional concept. This project wants to create an entirely new type of guild with a complete ecosystem consisting of a community, a method of earning an income stream, a series of games with playable NFTs, and an esports line.
The project will create its own series of games by partnering with development agencies, and all the games in the ecosystem will use the Meta Masters Guild native token, MEMAG. Furthermore, all the games will incorporate in-game rewards in the form of GEMS that can be collected and converted back into MEMAG for rewards. Players that earn GEMS will be presented with a variety of methods to cash out their tokens or reinvest them into the ecosystem.
The Principles Behind the Meta Masters Guild Ecosystem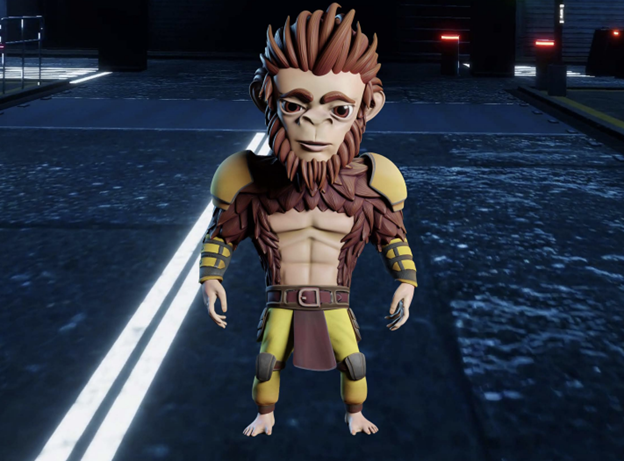 Meta Masters Guild prides itself on a set of principles that are geared toward elevating the gaming industry as a whole. Currently, the gaming industry is one of the most predatory industries in the world. Most of the top-tier gaming titles are held hostage by huge gaming corporations who hold the rights and often fail to deliver games that are up to the proper standard expected by gamers.
Typically, world-class gaming titles are often rushed and are shipped incomplete, with players expected to wait to continue progressing through the game. Furthermore, lots of gaming corporations use dirty monetization tactics that end up making the company billions of dollars, while the players that spend their time and money never see a return on their investments.
To add further fuel to the fire, these gaming companies know they're in a strong position of power after they acquire the rights to popular gaming titles. As a result, they often totally ignore community feedback and never allow gamers to have a say in the decision-making process regarding the game.
Meta Masters Guild is on a mission to fight this predatory business practice. They want to create a gaming ecosystem where players enjoy playing the games and want to ensure players continue to put their valuable time and money into it.
Furthermore, they want to design an in-game economy that is totally transparent, open, and fair. As a result, Meta Masters Guild is building its entire project on the following set of principles.
Fun Comes First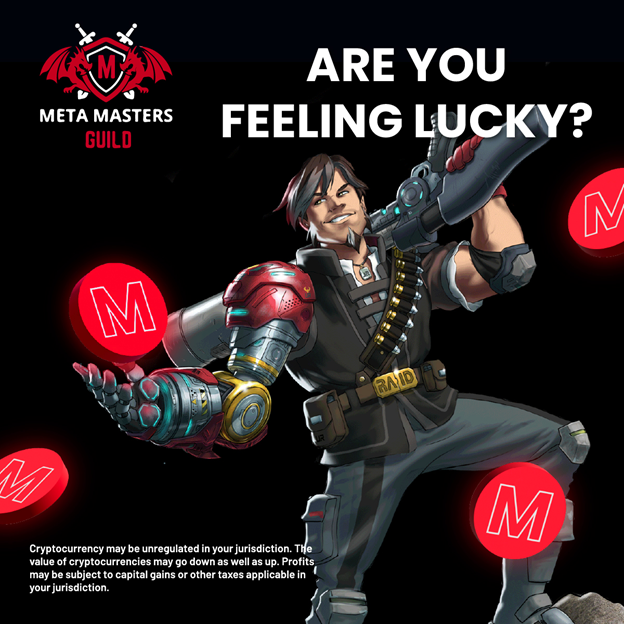 The number one goal for the gaming platform is to create fun games that keep players coming back for more. In an effort to stick to this principle, the team has pledged not to let tokenization and earning impede the creation of fun and interactive gameplay experiences.
With sustainability as its primary focus, Meta Masters Guild understands that a sustainable Web3 gaming economy requires a stable player base. Therefore, players need fun and engaging games to keep returning and remaining invested in the guild. Otherwise, the entire concept of a sustained economy behind the game will totally collapse.
You Really Own Your Assets
As mentioned, gaming corporations tend to close off their ecosystems so that players don't own any part of the game. Meta Masters Guild wants to change this dynamic by making the in-game economy totally fair and open. One method of achieving this is by allowing players to freely trade their in-game assets to one another in an open economy.
Whatever items a player earns in the game are owned by this player. As a result, Meta Masters Guild is creating a decentralized system that doesn't place restrictions on what players can do with their hard-earned in-game assets. Instead, players can swap their items with one another either through the game or on the Meta Masters Guild's custom-built marketplace.
Communities Make Games
The third principle that Meta Masters Guild lives by is that communities make games what they are. Multiplayer games are nothing without a community of players signing in every day to play.
To ensure the community is kept engaged, Meta Masters Guild will ensure that players will have a voice that will shape the future development of the ecosystem. They want to provide players with a say in the decision-making process through a decentralized voting system. Furthermore, gamers will be able to leave feedback on games, which the team and the community as a whole will always address.
Play-and-Earn > Play-to-Earn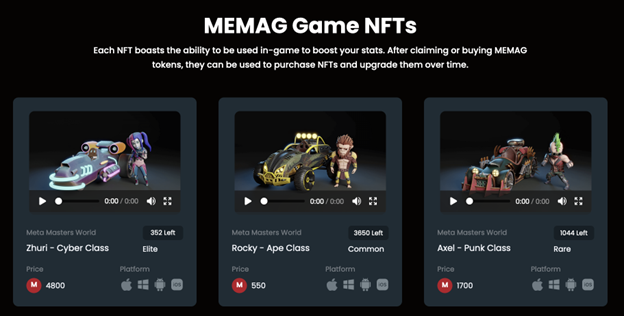 The final principle behind Meta Masters Guild is surrounding the play-to-earn concept. The team believes that play-to-earn is fundamentally flawed and doesn't actually live up to the hype it usually creates. As a result, they prefer to use the term; Play-and-Earn.
The founders of the project don't want people to play their games just to make money, as this would create a different style of gameplay. If the entire player base is just playing in the hopes of making a profit, it would be impossible for the earning mechanics to be sustained over the long term – regardless of how good the game is.
Instead, Meta Masters Guild wants to create high-quality games that players will be happy to spend their time and money on. Then, in return for their contributions to the ecosystem, the game will provide the players with the opportunity to earn their money back and be fully compensated for the value they add to the ecosystem.
The Economics Surrounding the New Play-and-Earn Infrastructure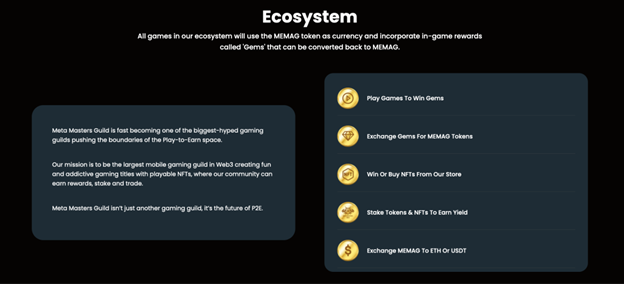 The economic model surrounding all Meta Masters Guild's games is centered around Play-and-Earn. They want to let their players enjoy their games for free and allow them to start earning for the time they spend on the game. Furthermore, it's up to the players if they want to make an additional monetary investment in the game to upgrade their statistics and become more advanced during gameplay.
The entire economic system is designed to incentivize members of the guild to remain engaged by rewarding those that add value to the overall ecosystem, either through gaming or building the online community.
Players can earn GEMS, the in-game reward token, in various Meta Master Guild titles, and they have complete autonomy to choose what they want to do with their rewards. Some of the options for utilizing GEMs include the following;
Exchange the GEMS for MEMAG tokens.
Players can then choose if they want to stake these MEMAG tokens back into the ecosystem to earn additional rewards.
Use GEMS to purchase in-game NFTs to level up their in-game characters and improve their chances of earning more rewards.
Cash-out GEMS to ETH by swapping to MEMAG and then to ETH through a decentralized exchange.
Players will be able to purchase premium NFTs through the Meta Masters Store. They will have to connect their wallet to the store to purchase the premium NFTs and then can use these purchased NFTs to play within the game – if they are using the same wallet across the ecosystem.
The premium NFTs will have more advanced characteristics and in-game statistics for players. This will result in them having a higher chance of winning a specific game, increasing their chances of earning more GEMs for more rewards.
Another option for players is to purchase MEMAG tokens on the Meta Master Guild website and then put these tokens into staking for further rewards. Alternatively, they can also use MEMAG to buy additional NFTS.
Furthermore, players will consistently have the opportunity to win NFTs, tokens, and other prizes by being active members of the community. Utilizing the social media channels, the team will run regular giveaways, competitions, and special events – all with opportunities for players to earn additional rewards along the journey.
How to Engage With the Meta Masters Guild Community
As community members are the heart of the Meta Masters Guild ecosystem, the team has ensured there are multiple ways for members to participate in the community and contribute additional value.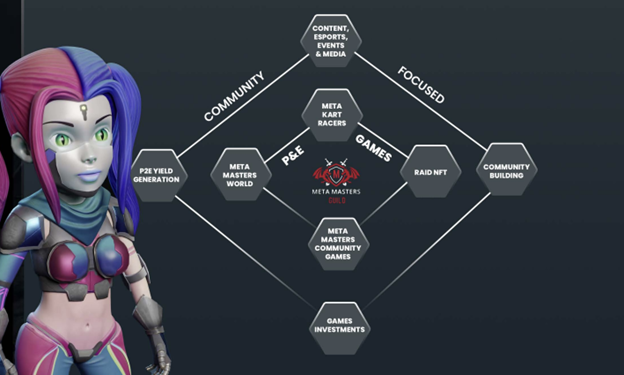 The following engagement methods are all designed to keep players engaged with the ecosystem, ensuring they have enough reason to stick with the platform and help it to expand over the long term.
Method 1: Build Games
Meta Masters Guild is committed to striking solid partnerships with game developers and gaming studios across the globe. They have pledged to provide early asset investment into titles to offer a stream of high-quality games for the community to play.
Suppose you are a gaming developer or have connections to gaming studios. In that case, you can make proposals to the Meta Master Guild team to develop games specifically for the ecosystem and be rewarded through the process.
Method 2: Provide In-game Assets to High-Performing Players
If you are an elite gamer, you have a strong chance of being rewarded handsomely if you continue to remain in the ecosystem. Meta Masters Guild will provide in-game assets of the highest standards to its elite-level players.
The idea behind rewarding top-tier players is due to the fact that they want to foster and execute a competitive esports scene for all of its titles. Their intention is to keep elite players coming back by rewarding those that would be eligible to compete in the esports side.
Method 3: Developing an Esports Team and Creating Content
Developing an esports team designed to compete in the Meta Masters Guild ecosystem will be supported by the team. If you manage to get a group of elite-level players together and have them ready to compete, you will be engaging with the community and will be rewarded.
Furthermore, as Meta Masters Guild is trying to build a strong community, content creators will be a big part of its success. The team will create long-term deals with content creators that cover the titles created by the ecosystem. So if you're a writer or can create YouTube video content, this is the perfect opportunity for you to start engaging with the ecosystem.
Method 4: Community Giveaways and Events
The final way to engage with the community is through community giveaways and events. Active contributors to the ecosystem will constantly have a chance to win MEMAG tokens, in-game NFTs, and other rewards through these giveaways and events.
What Games Does Meta Masters Guild Have Lined Up?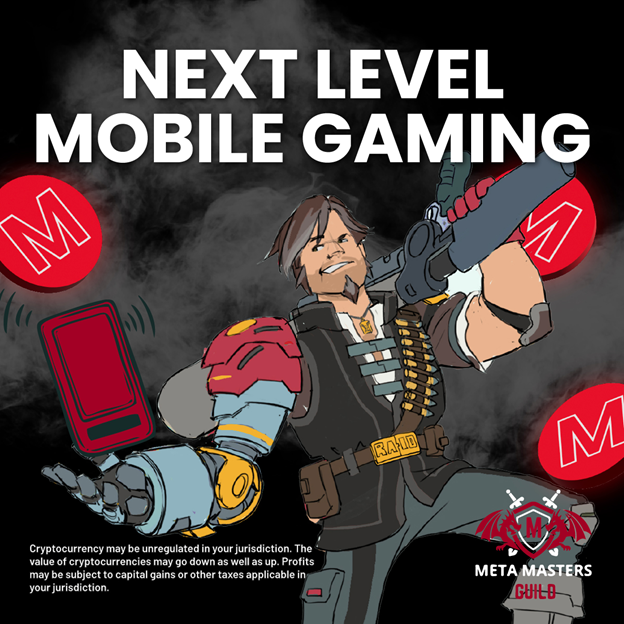 Even before its presale is complete, Meta Masters Guild already has three games that are currently in various stages of development, with more scheduled to go into development further down the road.
The three current games cover a wide range of gaming options, providing something that most gamers would enjoy playing.
Meta Kart Racers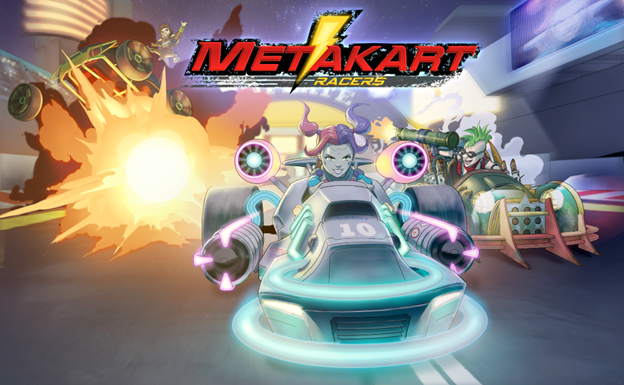 The first title is Meta Kart Racers, a player-vs-player racing game built for mobile devices. The team is working with Gamearound, a Web3 gaming developer, to create the game, and it is currently in early development.
In the game, players will compete with one another in the Meta Kart Championship, where players must escape the evil Meta overlords. During gameplay, players can earn rewards by collecting GEMs for their performance on the track.
The earning mechanics are centered around a skill-based competition, meaning the better you are, the more rewards you earn. Additionally, resource collection elements within the game combined with player-driven upgrade cycles allow players to earn further rewards.
Raid NFT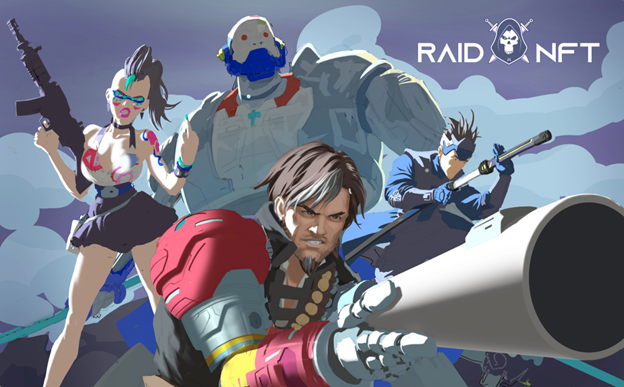 Raid NFT is a turn-based fantasy fighting game that allows players to choose between several warrior classes and battle in a range of different hostile environments.
In the game, players earn GEMs and in-game NFTs by completing the challenges laid out as they progress through the game. Players can also find special items in the battle arena, allowing them to upgrade their character to improve their stats when testing themselves against opponents: the more upgrades, the more powerful the player.
Some of the game modes feature player-vs-player, allowing players to compete directly against one another to earn rewards. Another game mode is single-player, which enables them to create their own destiny in the NFT raid.
Meta Masters World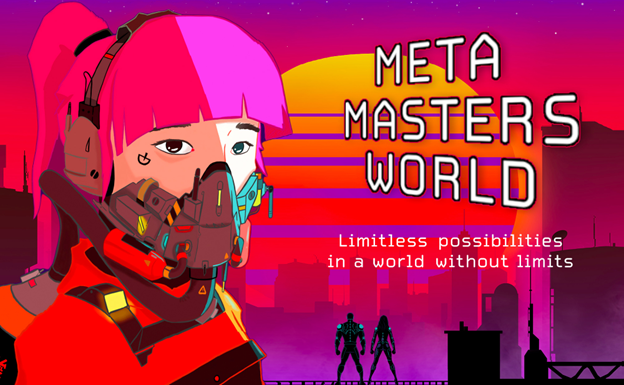 The last game in the first collection is Meta Masters World, a metaverse designed for all members of the guild. Meta Masters World is an exploration game set in an expensive virtual world.
The open universe game has less structure, allowing players to do as they please while socializing and making friends. Players have endless possibilities with a wide range of content to explore in the open world. They can explore, collect resources, and enter competitions.
Furthermore, every in-game item will be an NFT with a bustling marketplace that allows players to freely exchange their items.
What's To Expect from Meta Masters Guild in the Future
Meta Masters Guild has been developing its ecosystem since Q2 2022. So far, the team has managed to achieve all of the milestones up until the current Q1 2023 level, creating the MVP and concept behind their Web3 gaming platform.
Their roadmap is sectioned into separate quarters, displaying all of the goals the team has planned for each quarter of the year.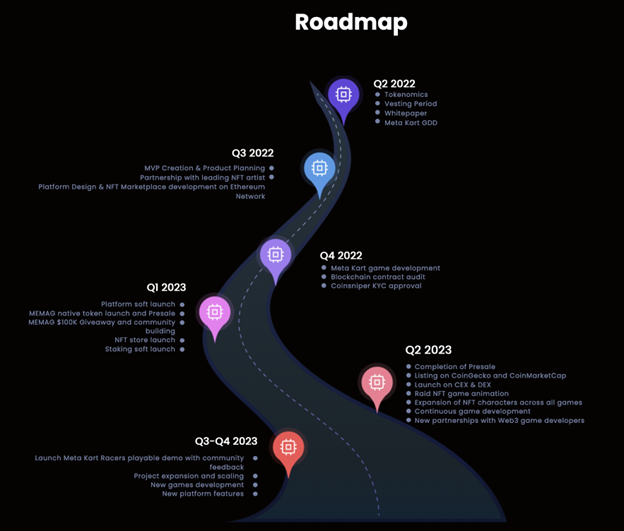 By the end of Q1 2023, Mea Masters Guild expects to conduct a soft platform launch to trial their creation. They also intend to launch the MEMAG native token, conduct a $100,000 giveaway for community building, and launch their NFT store.
In Q2 2023, Meta Masters Guild will finish their presale. After the token presale is complete, they will ensure that MEMAG is listed on CoinGecko and Coinmarketcap, as well as having the token listed on tier-1 centralized exchanges and decentralized exchanges, such as Uniswap. Furthermore, they will create new partnerships with Web3 gaming studios to begin the process of developing new games.
During the last two quarters of the year, Meta Masters Guild expects to launch its first game, Meta Kart Racers, as a playable demo. They will also look to release the other two games before the end of the year.
Presale Quickly Approaching the $1 Million Milestone.
The presale for the ERC-20 MEMAG token recently crossed the $700,000 level and is quickly approaching the $1 million milestone. The presale is currently in its second stage, selling the MEMAG token for a total of $0.01 each. Once the allocation of tokens in this stage is sold out, the price for the MEMAG token will then increase to $0.023.
In total, there will be 1 billion MEMAG tokens. The team is expecting to sell the presale allocation over seven separate stages, with an increasing price mechanism as each previous stage is completed. As a result, those purchasing the MEMAG token in the earlier stages of the presale stand to benefit the most once the presale is complete and MEMAG finally hits exchanges.
How To Participate in the Presale
Participating in the presale is relatively straightforward. First, head over to the project's presale website and connect your wallet.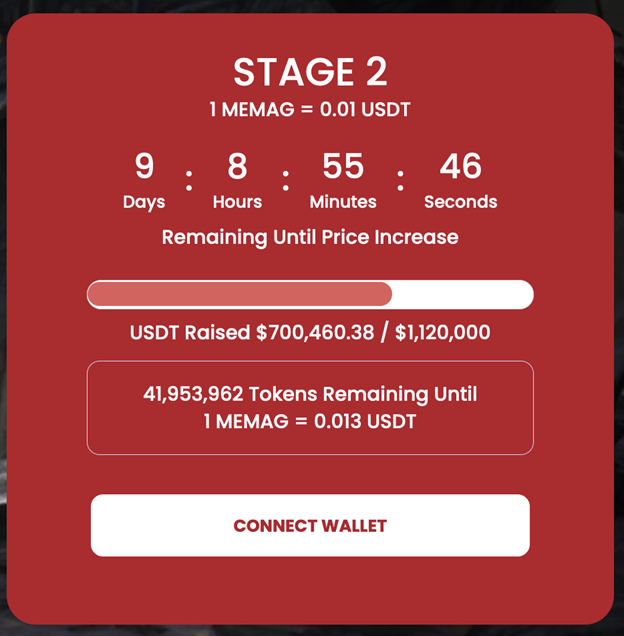 Once connected, the dashboard will provide all of the options available to invest;

If you have Ethereum or USDT, you can easily purchase MEMAG with these assets by simply entering your desired amount of MEMAG tokens. Alternatively, you can purchase ETH with a credit card and then use Ethereum to buy MEMAG. Transak is the company that helps MEMAG facilitate the purchase of ETH by using a debit or credit card.
The tokens will be held in the smart contract until the presale has completely ended. Once the presale is over, investors will be able to return to the presale dashboard to claim their MEMAG tokens before it hits exchanges.
Overall, Meta Masters Guild is totally flipping the entire Web3 gaming world upside down. Instead of employing predatory money-making tactics in their games, Meta Masters Guild will choose to create high-quality games with a particular focus on making them engaging to keep the player base expanding. Over time, the entire MEMAG ecosystem will continue to expand, and the value of the token is expected to increase once the community is fully established.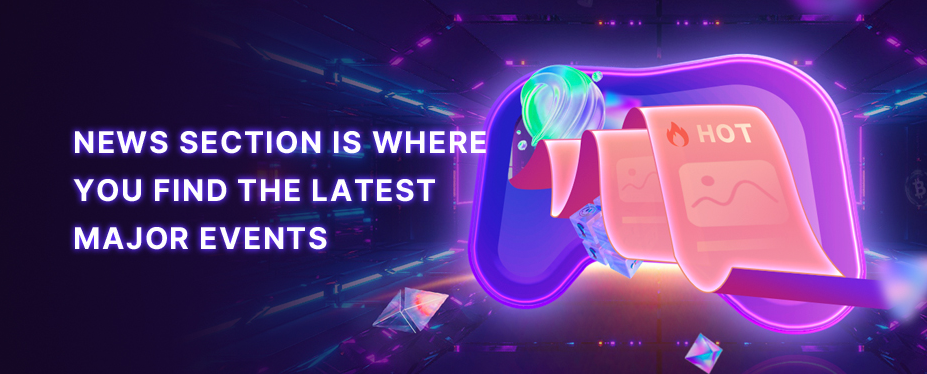 Welcome to P2E GAME
Hearing the echoes from Metaverse.
No corresponding news is found