Weekly Overview: What Happened in GameFi, NFTs, and Metaverse This Week? [March 3–10]
We collect this week's highlights on NFTs, play-to-earn, and metaverse which are the main topics we hear more and more details about every day.
For those who do not want to miss the most influential news about the industry among dozens of news, we have compiled the top five of the week for you.
Starbucks Releases 'Siren Collection' That Expire In Minutes
Credit: Starbucks
The world-famous coffee chain Starbucks is making a name for itself with the steps it has taken to Web3. The coffee giant launched a new NFT collection on March 9.
Polygon-based NFTs are reportedly inspired by the "mythical mermaid" associated with Starbucks' iconic logo. That's why the name of the new collection was announced as Siren Collection.
Launched on the Nifty Gateway platform on March 9, the sale featured 2,000 unique pieces and sold out within 18 minutes. The price was set at $100 for each NFT in the Siren Collection, and the base price quickly rose to over $600 upon release, a testament to the enthusiasm and interest surrounding users.
In addition, this collection was recorded as one of the significant steps after Starbucks Odyssey, the NFT and Web3 loyalty program launched by Starbucks last December.
Avalanche & TSM Collaborating: Engaging 30 Million Players
Credit: technopixel
Blockchain platform Avalanche announced that it is collaborating with global gaming and content company TSM. As part of the partnership, TSM's game Blitz, which has reached 30 million users, will use the Avalanche network to access Web3 features.
In this way, Avalanche (AVAX) opens its doors to the 30 million players of the global gaming company TSM.
As a result of this partnership with Avalanche, TSM will create new experiences for gamers, fans and creators. Additionally, the partnership aims to bring gamer-first Web3 products into the mainstream. Blitz will be built on the Avalanche Subnet. It will use Core to store, sell and buy digital assets.
TSM will run Avalanche-signed tournaments on the Blitz Subnet to help players hone their skills with performance data and learning tools. It will also allow them to compete in the Blitz Arena for prizes.
Countdown to Shiba Inu's Layer 2: Shibarium
Credit: freepik
Shibarium, the Layer-2 scaling solution highly anticipated by the Shiba Inu community, seems almost ready.
In the statement made on Shibarium's official Twitter account, there was a statement that the countdown has begun and the beta version of the platform will be available this week.
Shibarium is a layer-2 blockchain similar to Polygon (MATIC). The Layer-2 solution aims to provide a number of benefits, including faster and cheaper transactions, greater scalability and enhanced security.
Shibarium is built on the Shiba Inu blockchain and is designed to be compatible with Ethereum. This means that developers can easily migrate their existing Ethereum-based projects to Shibarium, thereby taking advantage of its faster and more efficient network.
A new private token ecosystem will be revealed, which can be traded using Bone ShibaSwap (BONE) to pay for gas.
The Shibarium developer team stated that the launch will be public and will allow everyone to try the new protocol.
Gate.io Launches Visa Crypto Card in Europe
Credit: Gate.io
Gate Group, the parent company behind crypto exchange Gate.io, plans to launch a Gate Visa crypto debit card through Lithuania-based Gate Global UAB.
With the developments in the crypto sector, many sectors have started to take crypto steps in their internal systems. Visa and Mastercard, which have been working on developments in this field for a long time, stand out as two active players.
At this point, payment companies, which come across their users with a new project every day, gradually include crypto in their payment systems. In a recent announcement, Gate Group, the parent company behind Gate.io, has announced its plan to launch a Gate Visa crypto debit card through its Lithuanian-based company, Gate Global UAB.
According to the statement made by Gate, a waiting list and registration process has been opened for users in the European Economic Area.
Cuy Sheffield, Visa's head of crypto, stated that the payments giant "want to act as a bridge between the crypto ecosystem and our global network of trade and financial institutions."
Polygon Support for Binance NFT Marketplace
Credit: Binance
Binance has added the Polygon network to the list of supported chains to further expand the NFT ecosystem. Thus, users will now be able to buy, deposit, withdraw and list NFTs from the Polygon network on the Binance NFT Marketplace.
With this development, users will now be able to deposit, withdraw and list their NFTs, while purchasing NFTs with the Polygon network through the Binance NFT Marketplace. However, users will also be able to trade NFT on Binance NFT Marketplace by holding MATIC or any token in their spot wallet.
Popular NFT collections, Y00ts and DeGods, recently announced plans to leave the Solana network and migrate to the Polygon network.
Binance also stated:
"Currently, only selected ERC-721 NFT Collections on the Polygon network are available on the Binance NFT Marketplace. Binance NFT will integrate more NFT collections on a regular basis."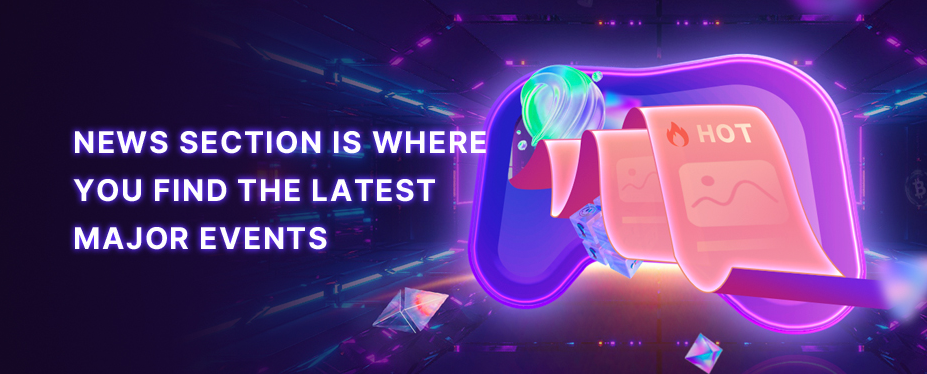 Welcome to P2E GAME
Hearing the echoes from Metaverse.
No corresponding news is found