BSCStation is honored to expand our newest established partnership with Spume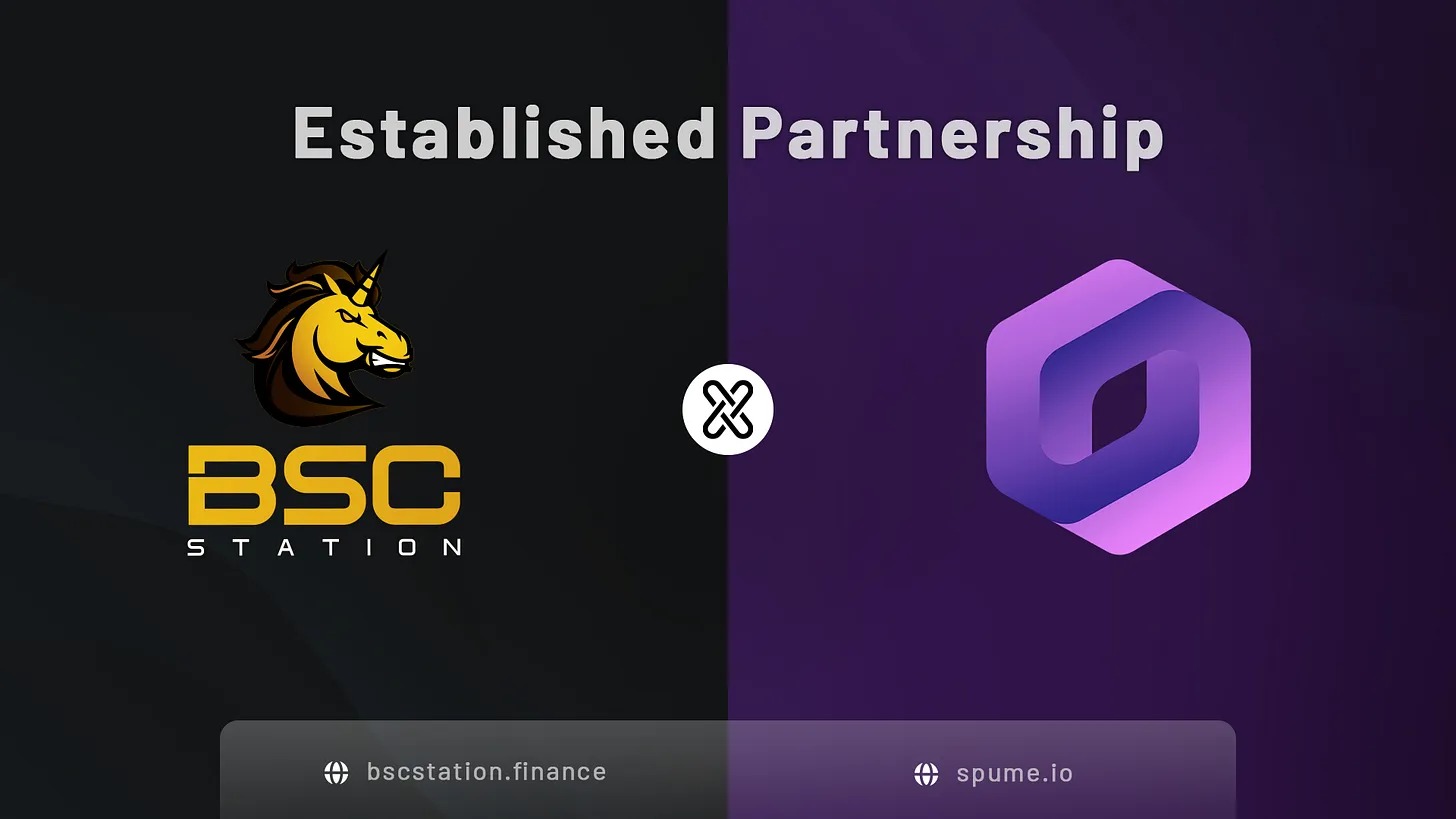 🏆Spume is a community governed holder-owned NFT marketplace that facilitates the non-fungible tokenization of physical and digital assets and removes brokers, banks, and other centralized authorities from unjustifiably taxing the transactions and property of individuals.
For more details about Spume, please visit:
Pitch Deck: https://spume.io/wp-content/uploads/2022/01/spume-pitch-deck.pdf
White Paper: https://spume.io/wp-content/uploads/2022/01/spume-white-paper.pdf
Technical Paper: https://spume.io/technical-paper
Social Media Channels: Website | Telegram | Discussion | Twitter | Discord
🤝 Through our partnership, BSCStation and Spume are going to work together on the following matters:
✅ IDO support: Spume will conduct Initial DEX Offering (IDO) on BSCStation Launchpad
✅ Community expansion: Both parties can expand respective community networks and create greater exposure for native tokens & future development of both projects.
✅ Cross-staking: Spume native asset $SPUME will be added to BSCStation's staking protocol.
✅ Co-marketing: Both sides can assist each other in mutual marketing activities such as AMA, giveaway campaigns, etc.
About SPUME
🏆The Spume Protocol is an end-to-end transactional layer that facilitates payment infrastructure for physical and digital non-fungible token assets on the Ethereum blockchain. The Spume Marketplace is the first dApp to be built on the Spume Protocol. The marketplace allows for the tokenization of off-chain, real world assets like real estate NFTs, and digital licensing. The Spume protocol will allow businesses and brands to issue branded NFTs via their native websites or through the Spume marketplace itself. The Spume marketplace will act as both an issuer and an aggregator for all NFTs issued via the protocol. None of our competitors are building NFT infrastructure that can penetrate multiple industries.
Highlights:
1/ Unscalable branded NFT distribution channels:
The branding/personalization aspect of NFTs stops at the distribution channels. Currently, there is no way to distribute NFTs via a branded channel at scale. Brands/businesses have to either deploy significant resources for custom branded NFT distribution or be satisfied with the branding they can get from the "about project" section on platforms like OpenSea.
2/ On-chain monetization of alternative assets inefficient:
Currently, there is minimal infrastructure to on-ramp off-chain assets on-chain, which makes tokenizing alternative assets such as physical art, real estate, intellectual property, luxury cars/watches, etc., challenging and, at times, almost impossible.
3/ Inefficient liquidity & prohibitive costs:
The NFT market lacks interoperability as it is currently driven primarily by Ethereum and corresponding ecosystem narratives. This leads to the centralization of capital within those specific ecosystems, leading to capital inefficiency and distinct NFT silos.
Website | Telegram | Discussion | Twitter | Discord