MARKET CAP :
$5,752,120,784,606.6
NFT Volume(7D) :
$68,403,145.4
(
#IDO
#GAMEFI
#BLOCKCHAIN GAMES
#NFT COLLECTION
)
Gaming grows to 48% of all blockchain activity | DappRadar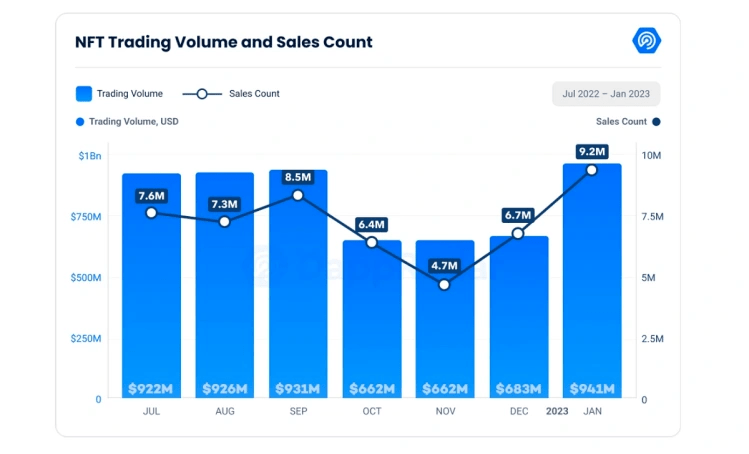 NFTs might be climbing out of the crypto winter and FTX crash.
Image Credit: DappRadar
Gaming grew to 48% of all blockchain activity during the month of January, up from 45% in December, according to market analysis firm DappRadar.
In January 2023, gaming daily unique active wallets reached 839,436. That means there were that many users who made transactions in blockchain games during January.
This is a bullish indicator for the long-term potential of blockchain gaming, DappRadar said in its latest report. Still, the number is so low that it shows that blockchain gaming is still pretty far from mainstream acceptance.
"The game alphas and updates keep coming in the blockchain space, and there is a growing sense of excitement and anticipation for what the future holds," DappRadar said. "As the sector continues to mature, we can expect to see even more exciting developments in the months to come."
That may sound overly optimistic, considering we're still in the midst of a cryptocurrency winter and a global economic downturn. But everything is relative, and blockchain games are due for a bit of optimism after a tough 2022. Maybe, just maybe, things could be getting better.
Overall, DappRadar said 2023 has started with a strong and bullish trend, particularly in the NFT market. On-chain metrics have shown significant growth and activity, indicating a thriving and promising quarter for NFTs. The assets locked in blockchain protocols (DeFI TVL, or total value locked in a protocol) hit $74.6 billion, up 26.8% from the previous month.
The NFT market registered $941 million in trading volume and 9.2 million in sales count. Polygon was the standout performer, recording a 124% increase in trading volume and 157.39% increase in sales count, driven by the popularity of its NFT collections such as Collect Donald Trump Cards and the launch of Mocaverse Realm Ticket Pass.
Total value locked in protocols is rising. That's an indicator of health in blockchains.
Opensea has an increase in trading volume of 66.58% reaching $495 million in January 2023. This represents 58% of the total trading volume of the NFT market. And more than $14.6 million were lost due to exploits in January 2023, the lowest amount registered since January 2022. DappRadar interprets all of these datapoints as signs of recovery.
While the number of active gaming wallets increased in January, the number decreased in terms of daily unique active wallets, dropping 9.55% to 1,730,542 compared to December.
WAX was the most popular blockchain in January. The gaming and NFT blockchain saw an average of 394,480 dUAW, an increase of 3.39% from the previous month. The blockchain game Alien Worlds and the NFT marketplace Atomic Assets were the top dapps on the WAX blockchain.
In third place we find Polygon with 191,985 dUAW. The blockchain ecosystem made a splash late 2022, and now saw a decrease of 5.22% from the previous month. Benji Bananas and Planet IX were the most popular dapps on Polygon.
Planet IX had a good month, seeing a 44% increase and reaching 141,580 UAW. Hive came in fourth place with an increase of 12.31% reaching 182,800 dUAW. Splinterlands dominated the activity on Hive, and the trading card game saw an increase of 5.87% in its UAW, reaching 340,520 UAW.
OpenSea still remains the leading marketplace with a 66.58% increase in NFT trading volume, reaching a staggering $495 million. This is a clear indication of OpenSea's unrelenting dominance in the NFT space, which represents 58% of the whole NFT trading volume in January 2023. Furthermore, based on the trading volume registered and the 2.5% fee that OpenSea charges per transaction, the platform made approximately $12.3 million in revenue.
The largest exploit of the month took place on the LendHub lending protocol on the Heco network, resulting in a loss of approximately $6 million. The vulnerability was in the lBSV contract duplication, allowing the attacker to deposit funds into the old version and borrow from the new market. By exploiting the flow of the minting and redemption process, the attacker made a profit worth $6 million before moving the stolen assets to other chains like Ethereum and Optimism.
"In conclusion, 2023 has started on a high note, with bullish on-chain metrics in the DeFi and NFT markets," DappRadar said. "The decrease in money lost this month due to exploits, the lowest amount ever recorded in 2022, is a positive indication of the increase in blockchain security."
I don't know if that is a great selling point for the mainstream: We didn't lose as much money to thieves this month compared to last month.
Still, DappRadar said, "The upward trend in the NFT market and the growth of DeFi platforms give us reason to be optimistic about the future of the crypto market. With these promising developments, we can expect a recovery and continued growth in the coming months."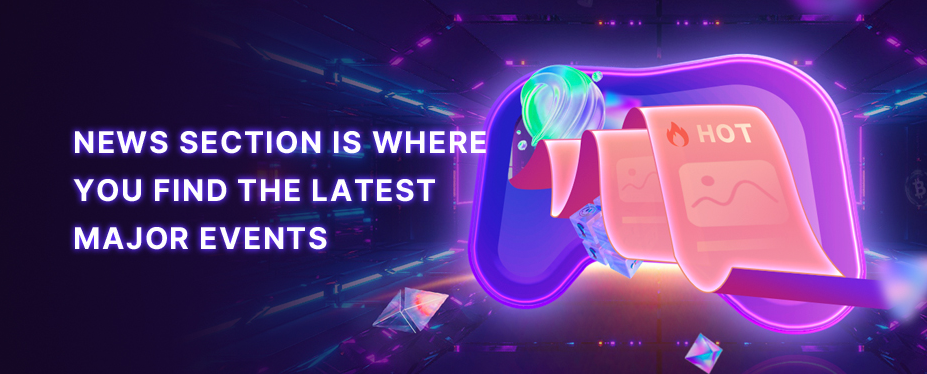 Welcome to P2E GAME
Hearing the echoes from Metaverse.
No corresponding news is found