MARKET CAP :
$5,751,957,796,104.2
NFT Volume(7D) :
$68,403,145.4
(
#IDO
#GAMEFI
#BLOCKCHAIN GAMES
#NFT COLLECTION
)
🔥 BSCStation New IDO Pool Open! 🔥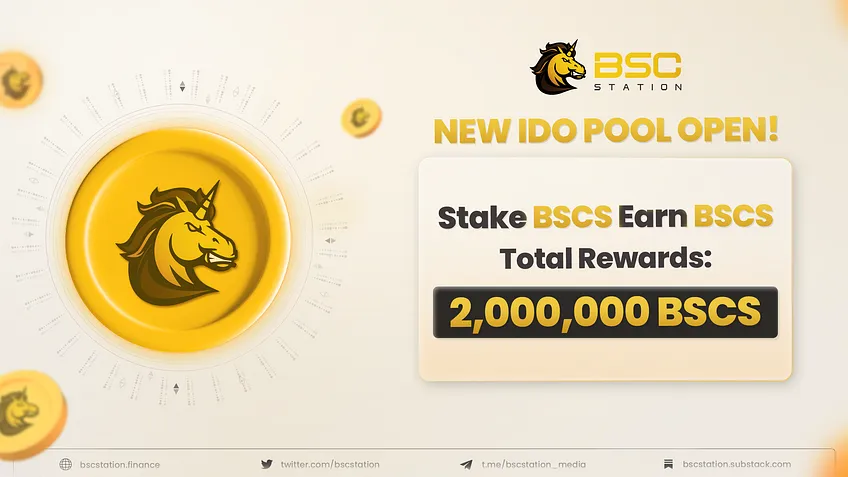 Dear beloved BSCSians, as you all know, become a BSCS Holder and you will have numerous special privileges. Staking BSCS for a Guaranteed IDO slot is definitely one of the super attractive benefits we offer our supporters.
BSCStation is proud to announce the launch of a brand new IDO Pool. This is a fantastic opportunity for our members to get in on the action and earn rewards by staking BSCS tokens.
The details are as follows:
1. "BSCS - BSCS" IDO Pool
💥 Start Time: 2 PM February 2nd, 2023 (UTC)
💥 Close Time: 2 PM August 2nd, 2023 (UTC)
💥 Lockup period: 180 days
💥 Smart Contract name: BSCS IDO 180 Days Pools
💥 Token: BSCS
💥 Contract Address: 0xbcb24afb019be7e93ea9c43b7e22bb55d5b7f45d
💥 Chain: Binance Smart Chain (BEP-20)
💥 Total Rewards: 2,000,000 BSCS
💥 Daily emission (Based on 28,800 blocks per day): 11,111 BSCS per day
💥 Token rewards per block: 0.385 BSCS
2. How to stake:
▶ Access IDO Pools on BSCStation website
▶ Select the IDO Pool
▶ Connect Wallet
▶ Enter the BSCS amount
▶ Approve
3. How to unstake from expired IDO pools and stake in the new ones:
Unstake from expired IDO pools:
Expired IDO pools will be moved to the "Finished" Tab.

Pick your IDO pool

Unstake
Stake in the new IDO pool:
*IMPORTANT NOTES:
- Every user has their own lockup period, meaning the lockup period starts and ends depending on when that user stakes in the pools.
- If users stake more tokens, the lockup period for the newly added staking amount will be counted from the beginning.
- The rewards distribution mechanism will follow a fixed per-block strategy in each day assigned proportionately to the stakers of the pool in each given block. The earlier and the longer you stake, the more token rewards you will earn.
About BSCStation
BSCStation - The fully decentralized protocol for launching new ideas. An all-in-one Incubation Hub with a full-stack Defi platform across all main blockchain networks. We provide exclusive services including IDO/INO Launchpad, Yield farming, NFT Auction, Marketplace, and BSCSwap
BSCStation operates on top of all the main blockchain networks and is designed to offer maximum value to consumers and institutions.
BSCStation platform uses the Sharing Economy Model for the purpose of profit-sharing, helping users to access DeFi platforms in the easiest, safest, and most cost-effective way. BSCStation is the most convenient bridge to connect users and application products on all main blockchain networks.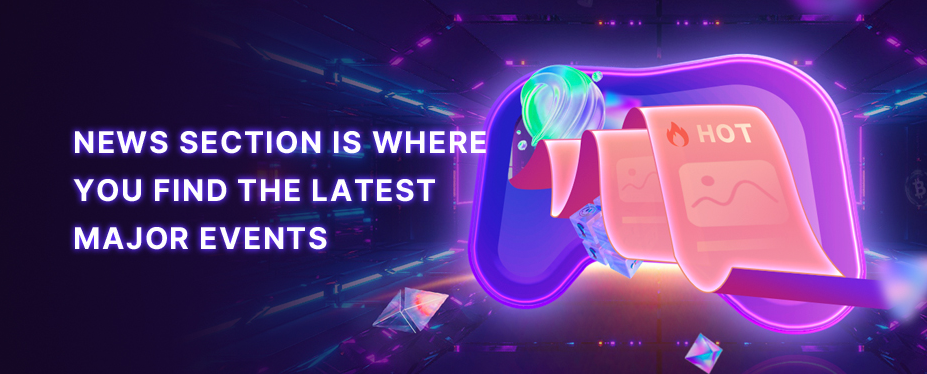 Welcome to P2E GAME
Hearing the echoes from Metaverse.
No corresponding news is found