Seedify NFT Launchpad — Guide to INOs and Participation Mechanics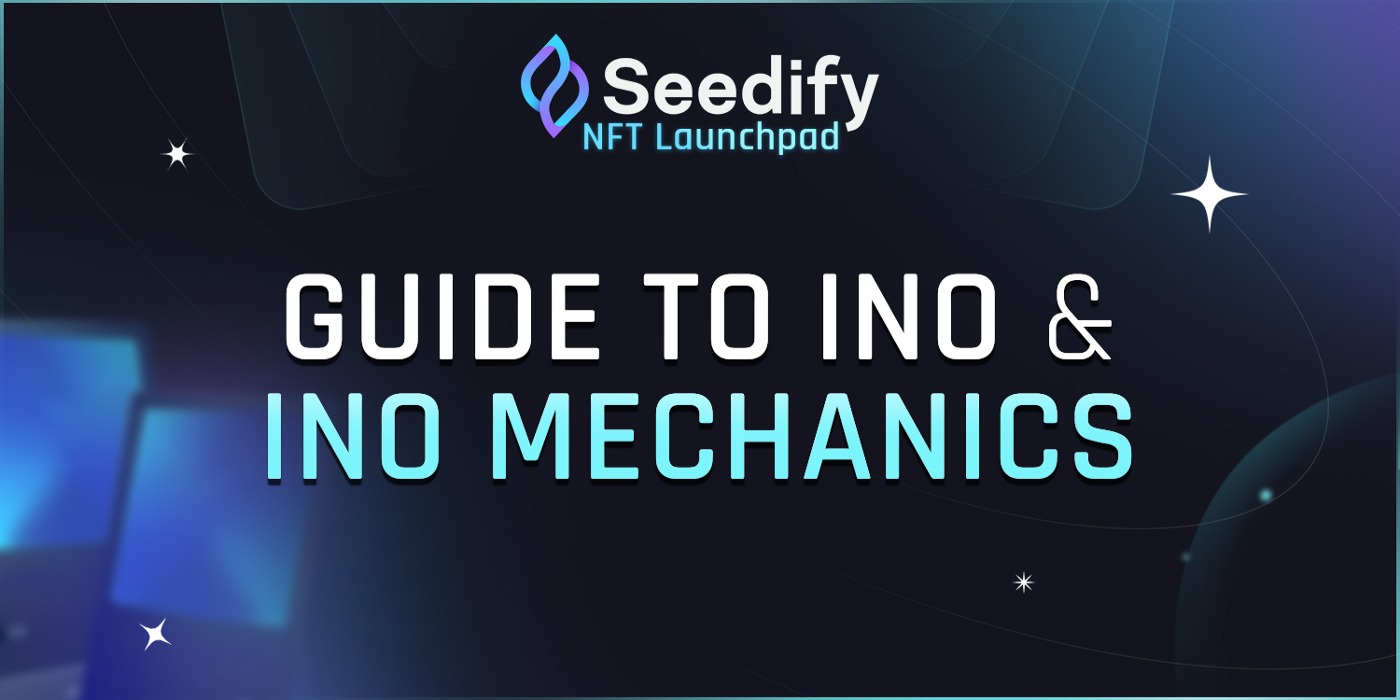 Hello Seedify Community,
After much anticipation and excitement, Seedify has recently expanded into the NFT space with the recent launch of our NFT Launchpad!
As this is an uncharted territory for many members of our community we will be publishing a series of articles that will guide you and up-skill you on everything you need to know to immerse yourself in all things NFTs and to truly understand the benefits and earnings potential from participating in our INOs.
Let's take a step back and start from the basics….
What is an INO:
INO stands for Initial NFT Offering and is an opportunity where users can purchase items from NFT collections before they are available to the public on the NFT marketplaces.
There are a number of key advantages that Seedify INOs offer to participants of sale events. These include:
Presale access — giving you the first option to purchase (often referred to as being on a "whitelist").
Mint Price — By getting whitelisted, you are given the chance to purchase the NFT at the initial reserve price during the allocated time frame.
Ease of purchase — Typically, it is quite expensive and tedious when multiple individuals are trying to mint simultaneously. Our system ensures that our community will not face any issues during this process (especially during phase 1s of INOs).
Growth Potential — Seedify carefully evaluates the projects we onboard, ensuring the quality and longevity of our community's investing experience is of the utmost importance.
Multiple Due Diligence — At Seedify each NFT project will be brought to you after passing due diligence reports done by 3 different professional NFT research teams, providing heavily assessed NFT projects to our community.
More utility — SFUND holders who are staking & farming will not only get allocation from Seedify's IGOs but also opportunities through the Seedify NFT Launchpad. In the same way $SNFTS stakers & farmers will not only get commission discount from Seedify NFT Marketplace, and Random NFT drops from trading at our marketplace, but also whitelists from the NFT Launchpad.
Headstart to NFT Utilities: Entrance to exclusive communities that will come with special perks, IP Rights of your NFTs (in most cases), in-game benefits (if gaming NFTs), rare drop chances (making NFTs more valuable), free NFT drops to future collections (more often than not NFT projects do extra free NFT drops to their NFT holders), and other interesting utilities that come with owning an NFT.
There are a number of INO Mechanics on Seedify Launchpad.
Types of INOs:
1. Whitelist/Minting Spot — In this category of INO, the user must have subscribed for the lottery to participate in the raffle, giving them the right to join the INO from mint price and purchase the NFT.
2. Dutch Auction — In these events NFTs will open for an auction with a starting price, decreasing over time. All whitelisted participants on Seedify's platform will be able to bid to get a chance to acquire an NFT.
Seedify NFT Launchpad Participation Systems:
During NFT Launchpad lotteries for whitelist minting spots (allocations), for every 250 SFUND (staked or farmed) 1 raffle ticket will be rewarded. Having more SFUNDs will automatically increase your chances of winning whitelist spots.
After the SNFTS airdrop, for every 10.000 SNFTS (staked or farmed) 1 raffle ticket will be rewarded.
60% of each NFT project's allocation will go towards SFUND stakers/farmers, 30% to SNFTS stakers/farmers, and 10% to the public who participates through viral social media activities (therefore increasing the awareness of the sale and bringing more volume to secondary market sales). A separate raffle take place for each.
On the first phase of whitelist/minting spot sales, all the raffle winners will get a whitelist spot to get their allocation in the given time frame. After that if there are any remaining NFTs that are not sold, a second raffle will take place, which will select 4 times the amount of NFTs that are left from those that haven't won the whitelist, and there will be a FCFS (First come first serve) round to complete the sale.
Unique ownership percentage is crucial to the success of NFT projects. Seedify aims to distribute the NFTs among many people. This helps collections reach their maximum potential in terms of price and community power, so all NFT launches on the Seedify NFT Launchpad will have maximum whitelist limits. These limits will never exceed 2 NFTs per wallet, but in most cases 1 NFT per wallet will be the rule of thumb, eliminating the potential sell pressure that might arise from users having multiple NFTs.
Before each NFT launch, Seedify will allocate a timeframe in which community members can apply for the lottery; which will usually open 7 days before the INO and will close 36 hours prior to the INO at the Seedify website where users will be able to apply from.
Chainlink VRF (Verifiable Random Function) technology will enable all raffle systems to be on-chain, ensuring provably fair and verifiable lottery results.
While this is the first version of our NFT Launchpad's mint allocation system, Seedify will constantly make improvements to ensure the system supports launching successful NFT collectibles while providing an extra layer of utility benefits to SFUND and SNFTS stakeholders.
In our next article we will unpack exactly "how to join an INO on the Seedify NFT Launchpad".
Thanks for your time and attention!
About Seedify
Seedify is a Blockchain Gaming and Metaverse incubator and launchpad, as well as an NFT launchpad, empowering innovators and project developers with access to funding, community building, marketing and high caliber partnership network, with a full support system to help bring premier games, NFTs and metaverse projects to our community.
To learn more, please visit the links below: