UnCaged Studios, Developers of MonkeyLeague, Raises $24M in Series A Equity Round
MonkeyLeague 3 months ago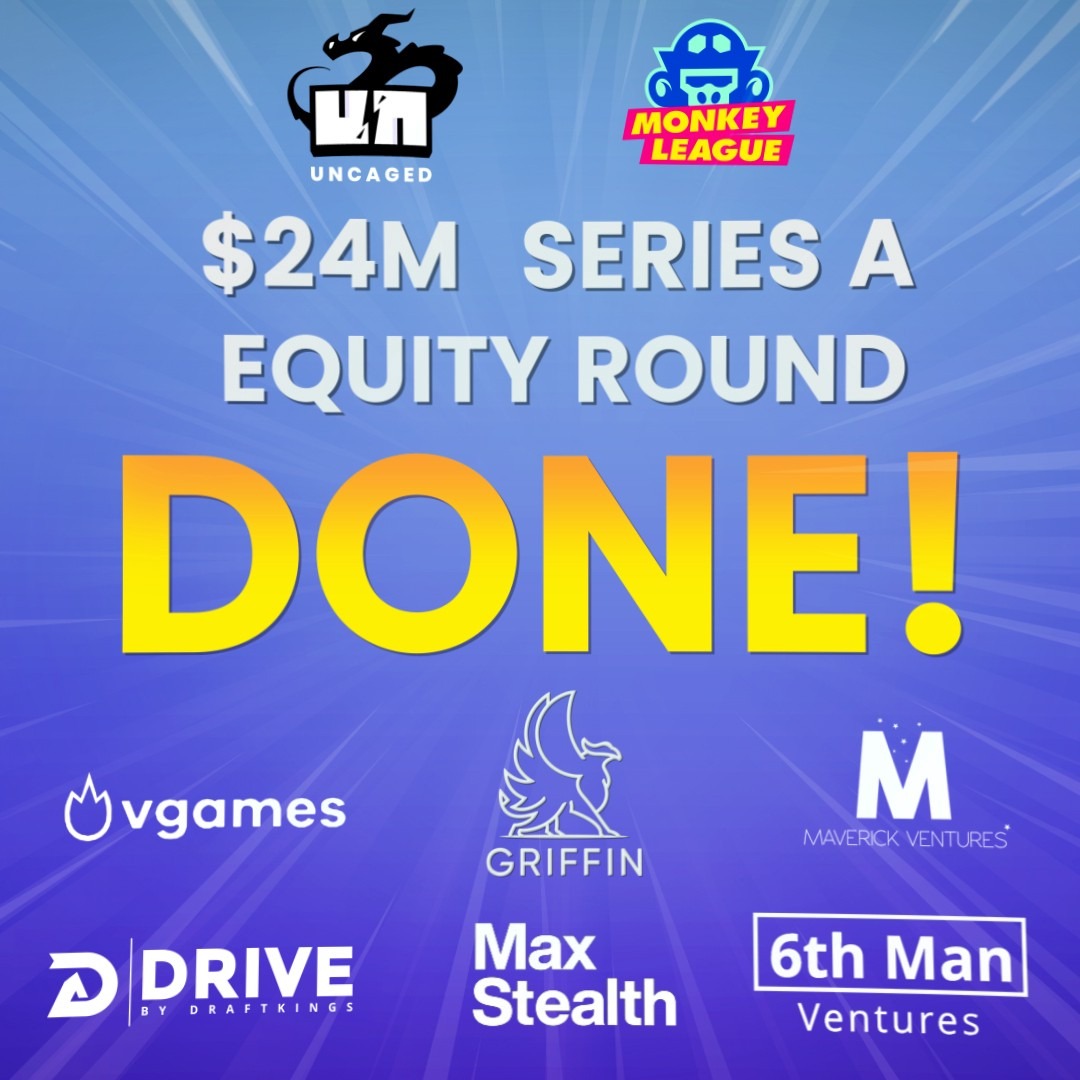 After coming out of stealth just 9 months ago with the news of our initial token sale of $4M, we are humbled and proud to announce that from the depths of this crypto winter, our studio, UnCaged, has completed a massive Series A equity funding round with gaming's biggest VCs totaling $24M. Having completed such a high value round with such backers in the current market condition is at the least a testament of our vision, this team of ninjas, our dedication, and our ability to execute. This round not only cements UnCaged, and MonkeyLeague, as the premier web3 game studio and game, but it gives us the resources to complete our mission of redefining gaming with GameFi 2.0 and beyond.
MonkeyLeaguers!
We may come from different parts of the world, speak different languages, and have different backgrounds but in THIS community, on THIS MonkeyTrain, we are all united with a common passion and strong belief in what we're building and how it's going to redefine gaming for a lifetime.
Grand visions aren't realized overnight or achieved from any one thing, nor is the journey always pretty. They are fought for day in and day out, and are achieved through the quality of the product, the team, the dedication, the patience, and resilience, and from NEVER accepting anything less as an option. It's made up of the wins, the losses, the mistakes, the big milestones, the small milestones, and all the moments in between.
In some years being an original MonkeyPioneer will have meaning and value beyond our current comprehension. We will look back and remember the individual moments that led to it — the seed investment that kicked it off, the IDO, the token launch and NFT drops, the partnerships and AMAs, the community chats — and we'll be damn proud to have pushed through on this journey and remained united on this MonkeyTrain TOGETHER!
Everyone, this…is one of those moments.
The equity investment in UnCaged was completed with some of the largest names in the gaming space; led by Griffin Gaming Partners and included Vgames, Maverick Ventures Israel, Max Stealth, Drive by Draftkings, and 6th Man Ventures.
This investment is massive for UnCaged Studios, MonkeyLeague, our community and our network of partners as it empowers us to execute on our complete vision for AAA-quality, fun-first web3 gaming with sustainable economies and it provides us many years of runway to do it.
What this Investment Means:
Complete development of MonkeyLeague, the first franchise release, including the multi-role ecosystem around matchplay
Continue building out the studio by hiring more talented ninjas to the UnCaged team so that we can do MORE, do it BETTER, and do it FASTER
Complete development of a franchise of multiple esports games that will leverage the same NFT MonkeyPlayers
Complete development of GAME OS, our studio's technology platform that will fuel our franchise of games and be leveraged by web2 gaming studios that want to make the jump to web3
Significantly expand our network and ecosystem of top tier, global partnerships — and kick it up a notch!
We have an extensive runway to execute
MonkeyFans, despite all we have achieved in the last 9 months alone, including securing this investment round, which cements our place at the forefront of web3 gaming for many years to come, this is still only the beginning of our mission to redefine gaming. We remain laser focused on the road ahead and that road begins with releasing the hottest and most anticipated esports games on the planet!
Game. On!
Much MonkeyLove
Oren Langberg
Head of Marketing & Partnerships
About MonkeyLeague:
MonkeyLeague is the next-gen web3 sports game that enables players to Play, Compete, and Earn.
MonkeyLeague combines high-production-value, multiplayer gaming with Solana blockchain, NFTs, and decentralized finance to deliver an exciting, turn-based, play-and-earn soccer game that's easy to learn yet hard to master.
Get on the MonkeyTrain:
MonkeyLeague.io | Discord | Telegram | Twitter | Youtube | Twitch | Facebook | Instagram | Reddit
Check out the MonkeyLeague Game Trailer