MARKET CAP :
$5,607,185,562,796.5
NFT Volume(7D) :
$69,323,434
(
#IDO
#GAMEFI
#BLOCKCHAIN GAMES
#NFT COLLECTION
)
What is Voxie (VOXEL): A Play-to-Earn Blockbuster in the Making?
Launched in late 2021, Voxies Tactics is a free-to-play, blockchain role-playing game (RPG) game that is revving up to be potentially the next big thing in GameFi.
Unlike some other games which require a significant initial investment to start playing, Voxies Tactics can be played without any NFT or token purchase; all that is needed to get started is a MetaMask wallet.
With retro, circa-90s aesthetics, Voxies Tactics offers two core gameplay modes: battling, which takes place with characters moving around a 3D tile-based map to fight enemies, and exploration, where players explore landscapes like deserts, snowy tundras, swamps and cybernetic realms filled with monsters and NPCs (non-playing characters).
As with other play-to-earn games, gamers can earn crypto (VOXEL) and in-game NFT items that can be traded for cash on NFT marketplaces like OpenSea or Rarible.
A Voxie fending off enemies in battle mode (Source: Voxies.io)
What is notable is that the Voxie Tactics game has in fact been in development for years, and while it only launched its open beta stage in January 2022, its Voxie NFTs have been steadily increasing in price; an Voxie NFT bought for 0.0111 ETH three months ago was sold at 17.99 ETH recently on OpenSea.
Exploring desert realms in exploratory mode (Source:Voxies.io)
However, the game, built on Ethereum, is only available on PC currently, with plans to release on Mac in late 2022 or early 2023.

How To Play the Voxies Game and Earn VOXEL Crypto?
Voxies Tactic is based on traditional RPG and tactical games just like its namesake, the classic PlayStation game Final Fantasy Tactics. By engaging in battles, exploring various realms and participating in quests, gamers can earn VOXEL crypto tokens and NFT rewards. The harder the quest, the more rewards a player will be eligible for.
Here are the steps to start playing:
Get a MetaMask wallet:

To store the in-game currency and NFT rewards that will be accumulated along the way.

Download the game to your PC

: Windows 10 and 1080p+ screen resolution is required. The Mac version is slated to be out later in 2022 or 2023.

Start playing

: Here, gamers have the option of using the free, default in-game characters OR buying Voxies on NFT marketplaces like OpenSea, in order to engage in battle, explore the lands and complete quests to earn crypto and NFT drops.Voxie Tactics gameplay (Source: Voxies.io)

Earn VOXEL tokens and NFT rewards:

The in-game VOXEL tokens can be used in-game to upgrade characters, enhance their ability to complete missions and of course, earn more crypto in the process. The NFT assets accumulated can be sold, traded or loaned in the game marketplace, in return for VOXEL tokens. These tokens can in turn be traded on exchanges like Phemex to be converted into Bitcoin, other cryptocurrencies or fiat such as USD, EUR or others.Steps to earn VOXEL (Source: Voxies.io)
What are Voxies NFTs?
To enhance the Voxie Tactics gaming experience, gamers can purchase NFT characters known as Voxies–there are only 10,000 Voxies, and are unique even in the NFT space in that they are fully animated and in 3D.
Voxie NFTs are fully animated and in 3D form (Source: Voxies.io)
These Voxies come in 10 races such as Human, Robot, Alien, Doge, Dragon, Zombie and Skeleton, spanning across six rarity tiers from Common to Rare and Godly, all with unique physical attributes, weapons and other visual cosmetic elements.
Players can customize their gaming experience by assembling a team of two to seven Voxies to battle monsters, villains and other players. As each Voxie is different, gamers can strategize the combination of Voxies in order to balance out overall strengths and weaknesses.
While gamers do not need any Voxies to play the game (there are default in-game characters that can be used in battles and exploration), owning a Voxie can give gamers unique skills and attributes for increased game performance.
For example, a gamer who owns a Voxie stands to win a higher rate of in-game rewards. Some Voxies come with access to certain weapons and items, and others come with a companion pet to help with certain gameplay elements.
The bad news is that all 10,000 Voxies have been adopted. The good news–they can be purchased from NFT marketplaces like Opensea.
Voxies can be purchased from secondary NFT marketplaces for enhanced in-game experience (Source: Voxies.IO)
VOXEL Price History
The native utility token of the game is Voxies (VOXEL), used to buy weapons, armor, and other in-game items. It can be earned by playing the game, or bought within the game platform and exchanges (see below section on how to buy VOXEL).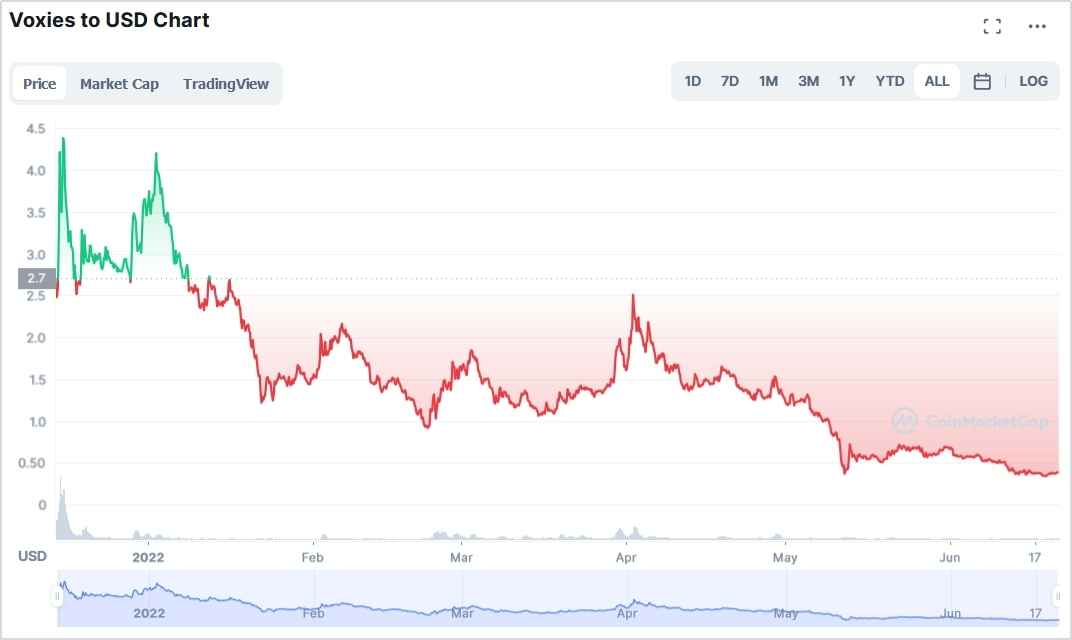 VOXEL all-time price history (Source: CoinMarketCap)
The VOXEL token price saw a spike from its initial price of $2.70 to an all-time high of $4.76 on December 16, 2021, but has trended downward ever since the broader crypto market entered a bearish phase in 2022. With a price of $0.40 and a circulating supply of over 64 million, it ranks #521 on CoinMarketCap with a market cap of $25 million.
Who is behind Voxies?
Voxies is developed by Montreal-based game studio AlwaysGeeky Games, which is staffed by gaming professionals who have worked on AAA game projects like the Assassin's Creed franchise, the Farcry franchise and the Harry Potter games, according to the official website.
It is led by founder and CEO Steve Ball, a games programmer who has worked at Ubisoft and EA, and whose game credits include Assassin's Creed Valhalla, Watch Dogs Legion and Immortals Fenyx Rising. His co-founder, Ashley Kurn, was previously a quality assurance analyst for Warner Bros Game.
Among its strategic advisors is Justin Taylor, currently Head of Consumer Product Marketing for Twitter, previously in charge of social communication and outreach for the Call Of Duty franchise.

How to Buy VOXEL Coin?
Let's use Phemex platform for this demonstration. Phemex offers both spot and contract trading for investors to choose from. However, for beginning crypto buyers, spot trading is recommended. To buy VOXEL on Phemex, follow the instructions below.
The first step to buying cryptocurrency on Phemex is to go to the Phemex homepage, register for an account, and select

Markets

.
On the Markets tab enter VOXEL into the search bar on the top right, immediately after, the VOXEL/USDT trading pair will appear below – select

Trade

to move on to the next step.
You will then be redirected to the Phemex trading platform for the VOXEL/USDT pair. To do a simple spot trade we recommend doing a market order where you can buy VOXEL at the market price. To do so, select

Market,

enter the amount of USDT you want to buy of VOXEL, and click Buy VOXEL.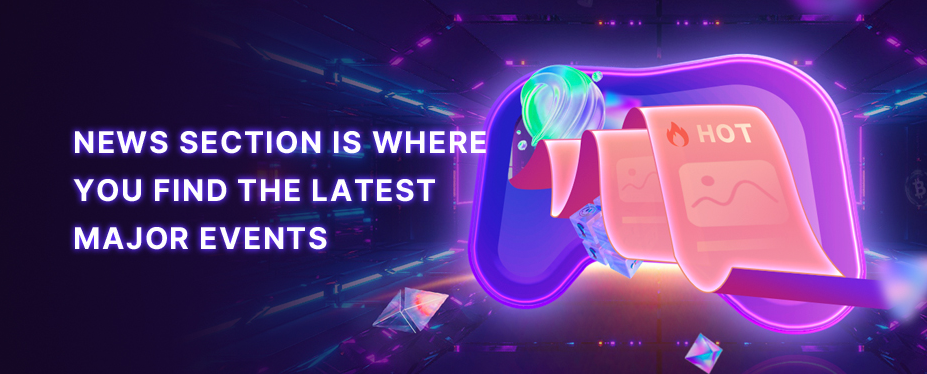 Welcome to P2E GAME
Hearing the echoes from Metaverse.