MARKET CAP :
$5,607,185,562,796.5
NFT Volume(7D) :
$69,323,434
(
#IDO
#GAMEFI
#BLOCKCHAIN GAMES
#NFT COLLECTION
)
Bitget Wallet Debuts Task2Get, a Web3 Exploration Incentive Platform, with ZetaChain Interactive Campaign
Following its brand upgrade from BitKeep Wallet, the world-leading all-in-one Web3 trading wallet Bitget Wallet has set its sights on improving overall user access to the decentralized finance (DeFi) ecosystem and discovering even better opportunities in the world of Web3. Its latest initiative, Task2Get, serves as a revolutionary Web3 exploration platform that provides users with attractive incentives for interacting with and completing a variety of different on-chain tasks.
Task2Get is primarily designed to fulfill two key functions: keeping users at the forefront of promising emerging projects; and rewarding users for interacting with them. This exciting initiative carefully curates and showcases the hottest projects to enter the Web3 ecosystem, providing a convenient avenue for users to interact with these projects, securing their spot for potential airdrops in the future. Additionally, the Task2Get platform also provides attractive rewards for users who complete set interaction tasks with featured projects, providing yet another incentive layer for users to earn while trying their hands on up-and-coming protocols and projects.
Kicking off the first phase of Task2Get, we are excited to collaborate with ZetaChain. This innovative EVM-Layer 1 blockchain connects all chains – even non-smart chains like Bitcoin network. ZetaChain is also known for its seamless connectivity across any blockchain and layer, supported by its Omnichain Smart Contracts. With a focus on facilitating interaction with the ZetaChain testnet ecosystem, Task2Get features 6 prominent DApps for users to interact with: XDAO, LENX, iZUMi Finance, Eddy Finance, Bounce Finance, and zkMe. Bitget Wallet users will stand a chance to win their share of 700,000 ZETA for completing interaction tasks, as well as exclusive Bitget Wallet x ZetaChain commemorative NFTs - which will provide holders with access to exciting periodic airdrops by Bitget Wallet.
One-Stop Airdrop Interaction Platform on Mobile
With the rise of numerous mainnets and projects in Web3, airdrop interaction has grown to become an increasingly popular way for users to explore emerging projects while also earning exciting rewards. However, the limited mobility of desktop computers is an obstacle that prevents users from capitalizing on these opportunities while on the go. Moreover, the overwhelming amount of information available may make it difficult for users to decide which project they wish to invest their time in. Identifying and tracking promising projects within such a context therefore requires not only high levels of experience and skill, but also significant investments in time and effort.
Task2Get was conceptualized specifically to solve these issues by serving as a one-stop airdrop interaction platform dedicated to mobile users. Featuring a clear and user-friendly interface that consolidates key DApps from various mainnets for the user's perusal, Task2Get ensures that users have access to concise and step-by-step instructions to perform their on-chain interactions with unbeatable ease, directly from their mobile device.
Additionally, Task2Get also boasts a robust suite of interactive tools to further enhance overall user experience. Ranging from educational guides to shared experiences from Key Opinion Leaders (KOLs), users will be able to find a rich diversity of resources to assist them in enhancing their interaction levels. The platform also offers real-time query tools, enabling users to track their wallet interactions, including records, rankings, and gas consumption details. Placing user security as its top priority, Task2Get integrates a contract authorization detection feature that allows users to manage their authorization permissions and revoke any granted to potentially suspicious contracts to ensure the safety of their assets.
Recognizing that the process of interacting with airdrops can become tedious after a while, Task2Get introduces a refreshing element of surprise by rewarding users with random NFTs upon the completion of each task. These NFTs not only entitle users to potential future airdrops, but also allow them to track their interaction progress and rankings, encouraging users on their airdrop interaction journey. tion.
Seasoned Web3 veterans and newcomers alike will undoubtedly find their airdrops needs met with Task2Get, streamlining and bolstering their expedition into the frontiers of DeFi.
Holding Collaborative Ecosystem Incentive Events with Mainnets and Projects
In line with its vision of serving as the ultimate Web3 trading wallet, Bitget Wallet goes beyond just offering unmatched opportunities for users to capitalize on valuable trading opportunities via its integrated swap service. It also hosts various rewarding events for users to experience different mainnet ecosystems and enjoy rewards for doing so, providing a mutually beneficial way to grow the overall Web3 ecosystem.
Within the wallet, users are invited to engage in diverse incentive-driven activities, including ecosystem incentives for specific mainnets, project-based airdrops, Invite2Get invitation-earning schemes, and dynamic on-chain trading competitions. These activities are launched regularly, offering users a dual experience of earning substantial rewards and enjoying the vibrancy of Web3.
Bitget Wallet boasts an impressive track record of leading large-scale and exciting campaigns with industry-leading networks and projects, including Solana, Mantle, Galxe, and more. Participation methods are versatile, encompassing holding wallet positions, executing Swap transactions, utilizing DApps, and inviting friends, with rewards varying from native tokens and whitelists to NFTs. Statistically, Bitget Wallet distributes approximately $100,000 in monthly airdrop benefits to its users through these diverse activities.
With the introduction of Task2Get, Bitget Wallet aims to rally together with emerging market trends and projects, providing its users with unprecedented access to explore the broader Web3 on-chain ecosystem while earning exciting rewards at the same time.
Fostering Strong Connections Between Projects and Users
Since its inception in 2018, Bitget Wallet garnered the trust of over 12 million users worldwide, marking its position as one of the world's top ten crypto wallets. Task2Get is set to capitalize on Bitget Wallet's extensive user base and significant market impact to create a robust platform for growth and exposure, benefiting both emerging and established projects.
Currently, Bitget Wallet supports over 90 mainnets and offers comprehensive functions like wallets, swap tradings, real-time smart quotes, NFT marketplaces, and DApp interactions. This comprehensive support empowers mainnets and project teams, facilitating users to complete various tasks within the wallet ecosystem, thereby driving continuous participation and active engagement in ecological projects.
Task2Get is committed to the continued and extensive collaboration with industry-leading partners, bridging mainnets, ecosystem projects, and users. This initiative fosters user-project interactions, enhances project visibility, attracts active user participation, and partners with projects to deliver more benefits to users, aiding them in navigating the vibrant Web3 landscape.
About Bitget Wallet (Web3 trading wallet)
Formerly known as BitKeep, Bitget Wallet stands as Asia's largest and global frontrunner among all-in-one Web3 trading wallets. We offer a comprehensive range of on-chain products and DeFi services to our users, including wallet functionality, Swap feature, NFT trading, DApp browsing, MPC Wallet and more.
With a 5-year legacy, Bitget Wallet has garnered acclaim from over 12 million users worldwide and has secured partnerships with prominent industry leaders including Ethereum, BNB Chain, Arbitrum, Polygon, Solana, Base, and others. This success stems from our commitment to consistently delivering secure and convenient products and services.
In March 2023, Bitget, a leading crypto derivatives trading platform made a substantial $30 million investment in BitKeep, acquiring a controlling stake. Following this strategic move, BitKeep underwent a transformative and strategic brand evolution in August, officially rebranding itself as Bitget Wallet.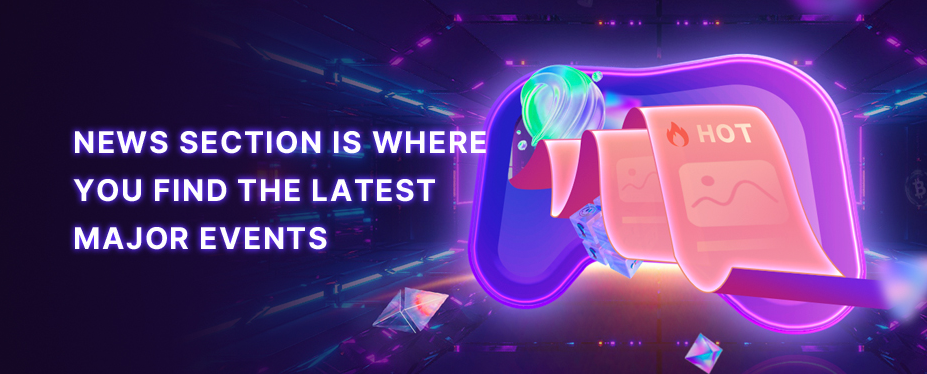 Welcome to P2E GAME
Hearing the echoes from Metaverse.
No corresponding news is found