MARKET CAP :
$5,607,185,562,796.5
NFT Volume(7D) :
$68,486,393.7
(
#IDO
#GAMEFI
#BLOCKCHAIN GAMES
#NFT COLLECTION
)
Weekly Overview: What Happened in GameFi, NFTs, and Metaverse This Week? [May 19–26]
We collect this week's highlights on NFTs, play-to-earn, and metaverse which are the main topics we hear more and more details about every day.
For those who do not want to miss the most influential news about the industry among dozens of news, we have compiled the top five of this week for you.
Gods Unchained to Launch Mobile Version on Apple and Android, Driving Web3 Game Growth
Gods Unchained, the leading web3 game in terms of blockchain-enabled trading volume, is set to expand its reach with the upcoming release of a mobile version for Apple and Android devices. The game's creators recently announced that a dedicated mobile development team is already working on bringing Gods Unchained to all mobile devices, with a soft launch planned for later this year.
Launched in 2018 by Immutable, Gods Unchained is a blockchain-based digital-trading card game that draws comparisons to popular physical trading-card games like Hearthstone. With the upcoming mobile release, the game aims to tap into the massive mobile gaming market, which is seen as crucial for attracting mainstream adoption and making the buying and selling of in-app digital assets, such as NFTs, a common practice.
Daniel Paez, the executive producer of Gods Unchained, emphasized the potential of the mobile gaming market, stating, "Getting a good slice of the pie on mobile, even though it's highly competitive, the pie is really, really big. And it's a different kind of player compared to PC and console gaming. You have a wider range of players you can target."
The move to Apple and Android devices follows a trend in the crypto gaming industry, where developers are striving to bring their titles to billions of mobile gamers worldwide. While there are more Android users playing mobile games, the affluent customer base of Apple makes it an attractive market for developers. Gaining approval to list on Apple's App Store has historically been challenging, but recent developments suggest the company is easing restrictions.
The release of the mobile version of Gods Unchained marks a significant step towards a jargon-free era in crypto gaming. Game director Chris Clay envisions a future where gamers seamlessly trade NFTs and engage with blockchain elements without friction. Addressing challenges such as the need for digital wallets and easy access to in-game marketplaces will be crucial to taking blockchain gaming mainstream.
As Gods Unchained prepares to enter the mobile gaming arena, it aims to captivate a broader audience and drive the growth of web3 games, forging a path toward the wider adoption of blockchain technology and NFT integration in the gaming industry.
Michael Saylor Advocates Ordinals Protocol for Global Bitcoin Adoption
Michael Saylor, the CEO of MicroStrategy, is advocating for the Ordinals protocol as he sets his sights on global Bitcoin adoption. The Ordinals protocol aims to make Bitcoin an integral part of the global financial system by creating a layer that enables seamless integration between Bitcoin and traditional banking services.
Saylor believes that widespread adoption of Bitcoin can only be achieved if it becomes as easy to use as traditional financial instruments. The Ordinals protocol aims to bridge this gap by providing a user-friendly interface that allows individuals and businesses to interact with Bitcoin in a familiar way.
By integrating Bitcoin into existing financial systems, Saylor envisions a future where Bitcoin becomes a preferred store of value and medium of exchange worldwide. He believes that Bitcoin's decentralized nature, limited supply, and resistance to inflation make it an ideal asset for long-term wealth preservation.
Saylor's advocacy for the Ordinals protocol is driven by his commitment to Bitcoin and his belief in its potential to revolutionize the global financial landscape. He sees the protocol as a key enabler for mainstream adoption, making it easier for individuals and institutions to embrace Bitcoin as an alternative financial system.
As Saylor continues to champion the adoption of Bitcoin, his endorsement of the Ordinals protocol signals his dedication to creating a seamless and user-friendly experience for global Bitcoin users. With his influence and MicroStrategy's significant Bitcoin holdings, Saylor's advocacy could play a vital role in driving the widespread acceptance and integration of Bitcoin in the global economy.
NFT Campaign from Renault Korea: SM6
Renault Korea is making a splash in the Web3 world with its latest NFT campaign, "Create Your SM6." This community-involved initiative allows participants to generate NFTs inspired by keywords related to Renault's SM6 TCe300 model.
Powered by an innovative AI tool called Stable Diffusion, the campaign enables users to enter keywords and create unique images that will be distributed as NFTs. A total of 6,300 NFTs will be issued, with each participant receiving only one. Winners will be showcased on the event page, and the NFTs will be delivered directly to their digital wallets. Participants also have the chance to win klaytn cryptocurrency based on their ranking.
This marks Renault's third NFT campaign, following their successful "Create Your Epic Car" and "XM3 E-Tech Hybrid Meta Unpacked" initiatives. Renault has been actively embracing the Web3 landscape, with previous NFT collections like "Racing Shoe5" and "genR5."
Through these campaigns, Renault demonstrates its commitment to cutting-edge technology and community engagement. By involving participants in the creation and ownership of digital collectibles, Renault showcases its forward-thinking approach in the ever-evolving digital landscape.
Pudgy Penguins: Bridging the Digital-Physical Divide with Phygital Toys on Amazon
Pudgy Penguins is expanding its reach by launching physical toys on Amazon. The project aims to bridge the gap between the digital and physical worlds through its unique "phygital" approach.
The Pudgy Penguins collection features adorable and unique penguin-themed NFTs that have gained significant popularity in the crypto community. With the launch of physical toys, Pudgy Penguins aims to attract a wider audience and provide a tangible connection to the digital collectibles.
By offering phygital toys, Pudgy Penguins combines the excitement of owning a digital asset with the joy of having a physical representation. This approach appeals to both NFT enthusiasts and collectors who prefer tangible items.
The decision to sell the physical toys on Amazon provides Pudgy Penguins with a massive distribution platform, reaching millions of potential customers worldwide. Amazon's extensive reach and reliable infrastructure make it an ideal marketplace for bridging the gap between the digital and physical realms.
Pudgy Penguins' foray into the phygital world reflects the growing trend of merging digital assets with physical merchandise. As NFT projects continue to evolve, integrating physical components allows for broader accessibility and wider adoption among mainstream audiences.
With its expansion into the physical toy market, Pudgy Penguins is positioning itself as a pioneer in the NFT space, offering a unique and engaging experience that appeals to both crypto enthusiasts and traditional collectors.
Vertex Labs Acquires Digimental Studio for $12 Million, Strengthening Its Position in the Blockchain Industry
Vertex Labs, a leading blockchain technology company, has acquired Digimental Studio in a deal worth $12 million. This strategic acquisition positions Vertex Labs to expand its capabilities and strengthen its position in the rapidly growing blockchain industry.
Digimental Studio is a renowned development studio known for its expertise in building blockchain-based games and applications. With this acquisition, Vertex Labs gains access to Digimental Studio's talented team and their extensive experience in developing innovative blockchain solutions.
The acquisition aligns with Vertex Labs' vision of driving blockchain adoption and revolutionizing various industries. By combining their resources and expertise, the companies aim to accelerate the development of groundbreaking blockchain applications and drive the mainstream adoption of decentralized technologies.
The collaboration between Vertex Labs and Digimental Studio opens up exciting opportunities for the creation of immersive blockchain games, DeFi platforms, and other innovative solutions. The companies are committed to pushing the boundaries of what is possible with blockchain technology and delivering next-generation experiences to users.
Vertex Labs' acquisition of Digimental Studio highlights the industry's growing recognition of the value and potential of blockchain technology. As more companies invest in blockchain-based solutions, the technology's impact on various sectors, including gaming and finance, is set to expand exponentially.
With the expertise and resources gained from this acquisition, Vertex Labs is well-positioned to continue driving innovation and shaping the future of blockchain technology. The collaboration between the two companies sets the stage for exciting developments in the blockchain space, as they work together to unlock the full potential of decentralized systems.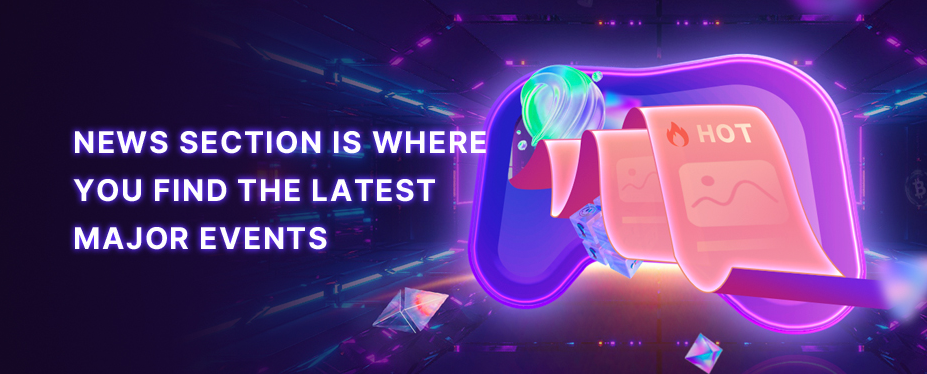 Welcome to P2E GAME
Hearing the echoes from Metaverse.
No corresponding news is found