MARKET CAP :
$5,607,185,562,796.5
NFT Volume(7D) :
$68,486,393.7
(
#IDO
#GAMEFI
#BLOCKCHAIN GAMES
#NFT COLLECTION
)
Weekly Overview: What Happened in GameFi, NFTs, and Metaverse This Week? [May 26 - June 2]
We collect this week's highlights on NFTs, play-to-earn, and metaverse which are the main topics we hear more and more details about every day.
For those who do not want to miss the most influential news about the industry among dozens of news, we have compiled the top five of this week for you.
Open Games Unveils Luke Goss as Ambassador for Europe's Prominent Gaming and Blockchain Event
Press Release — Open Games
Open Games, the premier gaming art and blockchain event in Europe, has announced Luke Goss, the renowned actor, producer, and musician, as its official ambassador. The event aims to bring together the worlds of gaming and blockchain, showcasing the intersection of art, technology, and entertainment.
Luke Goss, known for his roles in films such as "Blade II" and "Hellboy II: The Golden Army," brings his passion for gaming and blockchain to the forefront as he takes on the ambassador role. His involvement will help raise awareness about the event and promote the benefits and potential of blockchain technology in the gaming industry.
Open Games serves as a platform for game developers, artists, and blockchain enthusiasts to collaborate, share ideas, and explore the possibilities of integrating blockchain into gaming art. The event features exhibitions, workshops, panel discussions, and networking opportunities to foster innovation and collaboration in the space.
By partnering with Luke Goss, Open Games aims to attract a broader audience and create more awareness about the transformative power of blockchain in gaming. As blockchain technology continues to revolutionize various industries, including gaming, events like Open Games play a vital role in fostering growth, creativity, and knowledge exchange.
Luke Goss' involvement as the ambassador for Open Games underscores the event's commitment to bridging the gap between gaming and blockchain and promoting the development of groundbreaking projects at the intersection of these fields.
Nakamigos NFTs Up 65% in Daily Volume
This week, Nakamigos NFTs have emerged as top sellers in the NFT market, experiencing a remarkable 65% increase in daily sales volume. The Nakamigos collection, inspired by the popular cryptocurrency Dogecoin and the Japanese art form of origami, has gained significant traction among NFT enthusiasts and collectors.
Nakamigos NFTs depict adorable dog-like characters in various origami poses, each with its own unique traits and characteristics. The combination of the beloved Dogecoin theme and the artistry of origami has captured the attention of the NFT community, driving up demand and sales.
The surge in sales volume reflects the growing interest in NFTs and the desire for unique digital assets that hold both artistic and cultural significance. Nakamigos has successfully tapped into the market's appetite for innovative and captivating NFT collections.
With the recent rise in popularity of cryptocurrencies and the increasing mainstream adoption of NFTs, it comes as no surprise that Nakamigos NFTs have gained such traction. Collectors are drawn to the scarcity and uniqueness of these digital assets, as well as the potential for future value appreciation.
As the NFT market continues to evolve and attract more attention, it is essential for collectors and investors to stay informed about the latest trends and top-selling collections. Nakamigos' success serves as a testament to the power of combining popular themes with creative and visually appealing artwork.
The rise of Nakamigos NFTs is indicative of the broader NFT market's potential for growth and innovation. As more artists and creators explore the possibilities of blockchain technology and digital ownership, we can expect to see an increasing variety of unique and captivating NFT collections in the coming months.
Cristiano Ronaldo Joins Forces with Binance for Crypto Adoption
Cristiano Ronaldo, one of the world's most renowned footballers, has teamed up with Binance, a leading cryptocurrency exchange. This collaboration aims to promote the adoption of cryptocurrencies and blockchain technology to a global audience.
As part of the partnership, Ronaldo will serve as a Binance ambassador, participating in various initiatives and campaigns to raise awareness about the benefits of cryptocurrencies. Ronaldo's massive global following, with millions of fans across social media platforms, provides an immense opportunity to reach a wide audience and educate them about the potential of digital currencies.
Ronaldo expressed his enthusiasm for the collaboration, stating that he believes in the power of blockchain technology and its ability to reshape the world of finance. By joining forces with Binance, he aims to empower people with knowledge about cryptocurrencies and encourage them to embrace the digital economy.
Binance, known for its robust platform and extensive range of cryptocurrency services, is committed to driving mainstream adoption and making cryptocurrencies accessible to everyone. The partnership with Ronaldo further solidifies Binance's position as a key player in the industry and reinforces their dedication to innovation and user empowerment.
This collaboration not only highlights the increasing intersection between sports and cryptocurrencies but also signifies the growing acceptance of digital assets in mainstream society. As high-profile individuals like Ronaldo endorse cryptocurrencies, it helps eliminate misconceptions and instills trust in the technology.
The Ronaldo-Binance partnership is expected to inspire millions of football fans and crypto enthusiasts worldwide to explore and engage with cryptocurrencies. By leveraging Ronaldo's influence and Binance's expertise, the collaboration aims to accelerate the global adoption of blockchain technology and shape the future of finance.
Nike Celebrates $1M NFT Sales Despite Botting Allegations
Nike, the global sportswear giant, is celebrating its successful foray into the world of non-fungible tokens (NFTs) despite facing allegations of botting. The company recently achieved a significant milestone by surpassing $1 million in NFT sales.
Nike's NFT collection, titled "Nike Cryptokicks," features digital sneakers and accessories that can be purchased and traded on various NFT marketplaces. The collection aims to tap into the growing demand for virtual fashion and digital collectibles.
While Nike's NFT sales have been met with enthusiasm from collectors and fans, the company has also faced criticism for alleged botting activities. Some users claim that automated bots have been used to purchase large quantities of NFTs, limiting the availability for genuine users.
Despite these allegations, Nike remains optimistic about the potential of NFTs in the fashion and lifestyle industry. The company sees NFTs as a way to engage with its audience in the digital realm and offer unique, limited-edition virtual products.
As the NFT market continues to evolve, Nike's successful venture into the space signals the growing acceptance and adoption of blockchain-based digital assets by mainstream brands. It demonstrates the potential for NFTs to become a significant part of the fashion and consumer goods landscape, allowing brands to create new revenue streams and connect with their customers in innovative ways.
Circle to Launch New Version of USDC on Arbitrum
Circle, a prominent cryptocurrency company, has announced plans to launch an official version of its USDC stablecoin natively on Arbitrum, a layer 2 scaling solution for Ethereum. This move aims to address the growing demand for faster and more cost-effective transactions on the Ethereum network.
Arbitrum, developed by Offchain Labs, is designed to alleviate Ethereum's congestion issues by processing transactions off the main Ethereum chain. By launching USDC natively on Arbitrum, Circle aims to provide users with enhanced scalability and lower fees, making it more accessible and efficient for conducting transactions.
USDC is a popular stablecoin backed by the US dollar, offering stability and liquidity in the crypto market. Its integration with Arbitrum will enable users to benefit from faster transaction confirmation times and reduced gas fees, creating a more seamless and economical experience.
The launch of USDC on Arbitrum aligns with Circle's commitment to advancing the adoption and usability of digital currencies. As Ethereum continues to face scalability challenges, layer 2 solutions like Arbitrum offer a promising path for enhancing the network's performance and user experience.
With the integration of USDC on Arbitrum, Circle aims to unlock new possibilities for decentralized finance (DeFi) applications, including lending, trading, and yield farming, by enabling faster and more affordable transactions. This move underscores the industry's drive towards scalable and efficient solutions that can support the growing demand for decentralized applications.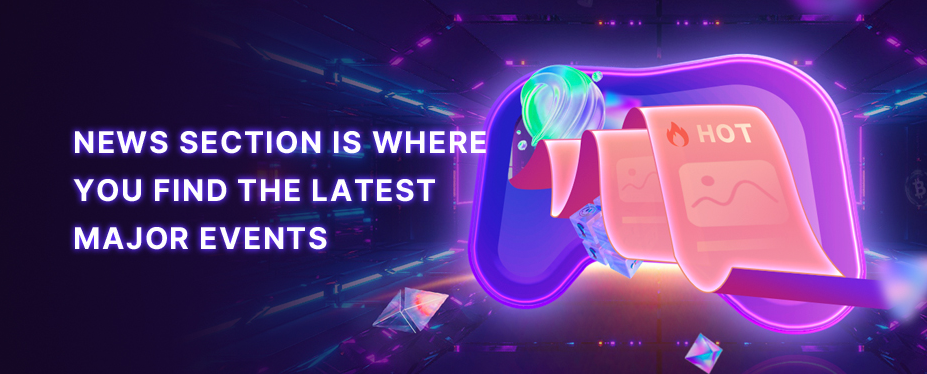 Welcome to P2E GAME
Hearing the echoes from Metaverse.
No corresponding news is found