Maya Protocol x Aztec Chain Coming to CyberFi Samurai
Firing up the launchpad for this fantastic L0 + L1 opportunity
Long time no see, CyberFi Clan. After the LUNA-induced, inflation-accelerated market downturn we have witnessed over the past few months, we decided to take a step back and assess the crypto space, the launchpad space, and our position in them.
We are happy to report that we are ready to come back stronger than ever! Over the coming weeks, we will introduce a number of new features and projects on the Samurai side that will provide ever more value to you — our valued community! Stay tuned for the rollout of all these features.
Today, we are announcing the relaunch of our launchpad with an exclusive presale (read: seed-round) of Maya Protocol's $MAYA token and its Aztec Chain $AZTEC token. The sale is set to take place on Thursday, August 4th, 2022, 11:00am UTC on Samurai Launchpad. Mark your calendars and be sure to get in on this fantastic layer 0 AND layer 1 blockchain opportunity!
I mean, how often do you have the opportunity to invest in a layer 1 blockchain on the seed round, right? Check out our QUICK HITTER for all the sale details.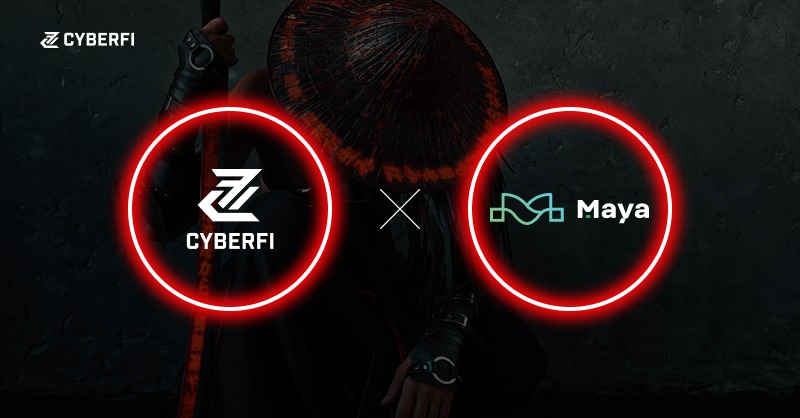 What is Maya Protocol?
Maya Protocol is a CosmosSDK-powered, replicated state machine designed to overwatch and coordinate the movement of digital assets, swaps, or stakes cross-chain without the need to wrap or peg any of them. Maya is a THORchain-friendly fork that functions as a cross-chain decentralized liquidity protocol serving as the backend for all transactions moving across wallets, centralized exchanges, protocols, and crypto-based businesses.
Maya Protocol's initial exchange enables non-custodial, non-KYC'd, fast and efficient cross-chain swaps between native assets. They complement the crypto industry liquidity backend by providing reliability, redundancy and team decentralization.
Maya Protocol is powered by a dual-token system with $CACAO being used for providing liquidity on the platform and $MAYA used for platform fee collection. 10% of all fees collected on the blockchain are distributed to $MAYA holders in the form of $CACAO rewards.
What is Aztec Chain?
Aztec Chain is considered a layer 1 blockchain to Maya Protocol's layer 0. Aztec, with its smart contract capabilities, is a powerful demonstration of the high potential of the Maya Protocol's design and how it can expand horizontally to offer different complementary products. There are endless possibilities of combining Maya's liquidity blackhole properties with Aztec's smart contracts and economic capabilities.
Aztec's mission is to complement and underpin the DeFi space. With this project, they express their strong belief in permissionless money and in truly open and transparent monetary platforms, controlled exclusively by open-sourced coded rules and policies.
Similar to $MAYA, $AZTEC tokens grant holders the right to a proportional fraction of the "Aztec Fund", which captures 10% of all the fees generated by all swaps and transactions on Aztec Chain and rewards holders with $CACAO.
$MAYA and $AZTEC Tokenomics
$MAYA and $AZTEC are basically mirror images of each other with a total supply of 1,000,000 tokens and combined $44,000,000 fully-diluted market cap ($22m for each token).
$MAYA and $AZTEC tokens can thus be treated as some sort of stock or economic participation in their platforms ($MAYA for Maya Protocol and $AZTEC for Aztec Chain) and will most likely reflect the market's perceived value of the present and future growth of the network. Each coin captures 10% of the fees generated by their respective platforms and holders are rewarded in $CACAO tokens.
Check Maya Protocol's Whitepaper for all the information, but keep in mind that neither token is subject to vesting.
Maya Protocol Quick Links
Website || Twitter || Discord || Linktree
Participation on Samurai
Samurai Launchpad will host a presale round for Maya Protocol's $MAYA and $AZTEC tokens on Thursday, August 4th, 2022 at 11:00am UTC.
This guaranteed whitelist presale is open to all stakers at the Ninja tier (100 $CFi staked) and above on a first-come, first-served basis.
Schedule:
Participation: Thursday, August 4, 11:00 UTC to Friday, August 5, 11:00 UTC.

TGE: Tentatively set for September
Stakers in all tiers are eligible to purchase $MAYA and $AZTEC in 50:50 bundles at the presale price of $22 each. The token bundles can be purchased in allotments between $200 BUSD and $10,000 BUSD on a first-come, first-served basis.
50:50 bundle example: If you invest $1,000 usd in the presale, you would receive 22.72 $MAYA and 22.72 $AZTEC.
Tokens purchased at pre-sale are NOT subject to vesting.
Please refer to our convenient QUICK HITTER for all relevant sales information in one handy location.
If you are unfamiliar with our tier structure, you can check it here: Samurai Tiers
About Samurai
Samurai by CyberFi is a full-suite Decentralized Cross-Chain Crowdfunding Launchpad & Stakepad built for the evolution of DeFi.
CyberFi Website: https://cyberfi.tech/
Samurai Website: https://samurai.cyberfi.tech
Medium: https://medium.com/cyberfi
Telegram: https://t.me/cyberfi_tech
Twitter: https://twitter.com/cyberfi_tech