MARKET CAP :
$5,607,185,562,796.5
NFT Volume(7D) :
$69,323,434
(
#IDO
#GAMEFI
#BLOCKCHAIN GAMES
#NFT COLLECTION
)
Guild of Guardians: How to play and earn
Werner Vermaak & Avatar Bethany Hickey
What is Guild of Guardians?
Guild of Guardians is an upcoming NFT mobile RPG. Players go head-to-head against each other by pitting their selection of guardians, and join guild competitions to earn in-game rewards.
Image source: Guild of Guardians
It runs on the high-speed Immutable X Ethereum layer-two network, and will be free to play — so no need for an upfront investment.
The developer also states that the game won't be pay-to-win, "We are designing the game so that it won't be pay-to-win by ensuring that skill and strategy are core elements of the game."
The Guild of Guardians gameplay mechanics are designed to create a fun and engaging experience while challenging enough to keep you on your toes. Supposedly, you must devise strategies to outdo others and win guild competitions.
The game also features a trading component where players can mint gaming NFTs or purchase them from secondary markets.
Despite being free to play, Guild of Guardians will have its own NFT- and token-backed economy, giving users the opportunity to earn monetary rewards and assets to trade on the platform's own gas-free marketplace, as well as on other exchanges and marketplaces.
Playing Guild of Guardians
The game still isn't out yet, but here's what you can do if you're anxious to get started with Guild of Guardians:
Get a crypto wallet.

Also called a digital wallet, these store your crypto and NFTs. You need one to play the game. The game supports multiple wallets, including Ledger, Tokenary and Infinity Wallet. If you already have a WalletConnect-compatible wallet, scan a QR code to sign in.

Join the mailing list.

You don't need a wallet for this, but you can pre-register for the game with an email address (there are over 150,000 pre-registered players to date).

Purchase NFTs.

There are Guild of Guardian's heroes for sale, which you can purchase on secondary marketplaces, such as Immutable X.

Mobile device.

Guild of Guardians is a mobile game, so you'll need a mobile device to play.
Once the game is launched, you'll select a hero you want based on their strategy. Each hero has unique attributes that affect their roles, whether a healer, tank or support. Join a guild after you choose a hero.
You'll bring your team of heroes into dungeons filled with monsters, bosses and unforeseen traps. While playing and battling through waves of creatures, you earn rewards that come in the form of resources, currencies and in-game equipment that can be used to upgrade heroes or create new equipment via crafting.
Guild of Guardians requires deep strategy considerations since a hero's performance in battle highly depends on multiple aspects, including its skills, guild, class and elemental synergies with other heroes.
In the future, the developers will introduce more game modes such as guild raids, player-vs.-player combat, land gameplay, user-generated dungeons and more.
Image source: Guild of Guardians
What is the Guild of Guardians token?
Guild of Guardians Gems (GOG) are the game's native utility token and they have several use cases.
Payment for in-game assets
A reward system for players
A governance token
Fuel for minting NFTs
The GOG collected from the minting fees of NFTs in-game are allocated to the rewards pool. Token holders can also use their GOG to stake and earn active rewards. As a governance token, GOG gives token holders the opportunity to participate in voting functions, such as deciding on developer grants, changes in token supply and other platform parameters.
How to buy Guild of Guardians token
The GOG token sale was conducted on the Coinlist platform on November 10, 2021 which sold out. Soon, it will be listed on multiple exchanges, allowing more users to trade the token.
Right now, you can swap other cryptocurrencies for GOG on Sushiswap, OKX, and FTX. If you need a cryptocurrency to swap, such as ether (ETH), you can buy it on most major exchanges like Gemini or Crypto.com.
It looks like GOG may not be available to purchase on an exchange in the US.
You can still purchase GOG by using a decentralized exchange (DEX) instead. Decentralized exchanges are web applications that run on blockchains like Ethereum and allow users to trade any asset directly with one another.
Decentralized exchanges (DEX) are unregulated and run using autonomous pieces of code known as smart contracts. To use a DEX you must interact with the blockchain directly, which is not recommended for novice users. Please learn about decentralized exchanges first if you're unfamiliar.
How to purchase GOG using a decentralized exchange.
Find GOG on a decentralized exchange

and make sure GOG can be traded for ETH which is the native asset of Ethereum. Popular DEXs include Uniswap, SushiSwap and 1INCH.

Buy ETH

to trade for GOG using an exchange like Gemini. You will need to purchase enough ETH to swap for GOG as well as ETH to pay for transaction fees on the Ethereum network (known as gas). You can use a service like Etherscan to get an idea of how much gas fees currently cost.
Transfer the ETH into a web 3.0 wallet like MetaMask to connect to the DEX.

Trade ETH for GOG

on the DEX of your choice, following the instructions on screen. Make sure to leave enough ETH in your wallet to pay for gas.

Wait for the transaction to finalize

and the GOG tokens will arrive in your wallet.
You may now keep the tokens in your web 3.0 wallet or transfer them somewhere more secure like a hardware wallet.
You can follow the same process when you want to sell your tokens, or come back to this page to see if they can now be traded on an exchange in the US.
How does play-to-earn work with Guild of Guardians?
There are multiple ways to earn rewards from the game, such as crafting guilds, merging heroes, completing daily quests and acing the leaderboard.
Trading items.

Marketplaces sell crafted items from guilds. All players of the guild that contributed to the crafted item share the sale proceeds.

Merging heroes to sell.

Merging heroes can be profitable since heroes with varying rarity can create a rarer hero, which consequently translates to a higher value.

Daily playing.

Daily quests and other game activities can generate income too, where players earn GOG tokens that can be converted to cash on exchanges and marketplaces.
What are Guild of Guardians NFTs?
The Guild of Guardians NFTs are issued as ERC-721 assets, which are designed for the Ethereum blockchain. The game utilizes Immutable X, a second-layer protocol that helps address transaction speed and costs.
Guild of Guardians allows the purchase of several NFTs, including hero summons, pets, energy boosters, guild crafting tools and more. Purchase the hero summons in packs of varying qualities such as rare, epic and legendary.
Image source: Immutable X
Purchase rare, epic and legendary heroes on marketplaces. Note that if you combine heroes you can spawn a more valuable hero.
NFT pets or energy boosters improve your hero's capability, especially in how they perform in dungeons. You also can buy a pet summon item, which gives you a chance to create a pet from common to legendary as well as an energy booster token from marketplaces.
How to get NFTs on Guild of Guardians
The Guild of Guardians conducted a sold-out "Wave 3 NFT sale" on the Guild of Guardians store last November 10.
The in-game store — once the game is launched — will allow you purchase in-game assets needed to strengthen heroes or craft guilds.
However, you can buy Guild of Guardian NFTs on the secondary market such as Tokentrove or Immutable X, accessible right on the Guild of Guardian site.
Here's how to use the Immutable X market:
Head to GuildofGuardians.com

. On the homepage, select

STORE

from the main navigation menu. From the drop-down menu, select

Immutable X.

Search for NFTs.

There are collectibles, avatars, heroes, pets and more.

Connect your MetaMask wallet.

To make purchases, you'll need the software MetaMask wallet or the MetaMask hardware wallet.

Purchase the NFT.

Buy NFTs on the Immutable X marketplaces with many cryptocurrencies, including ETH, APE, OMI, USDC and GOG.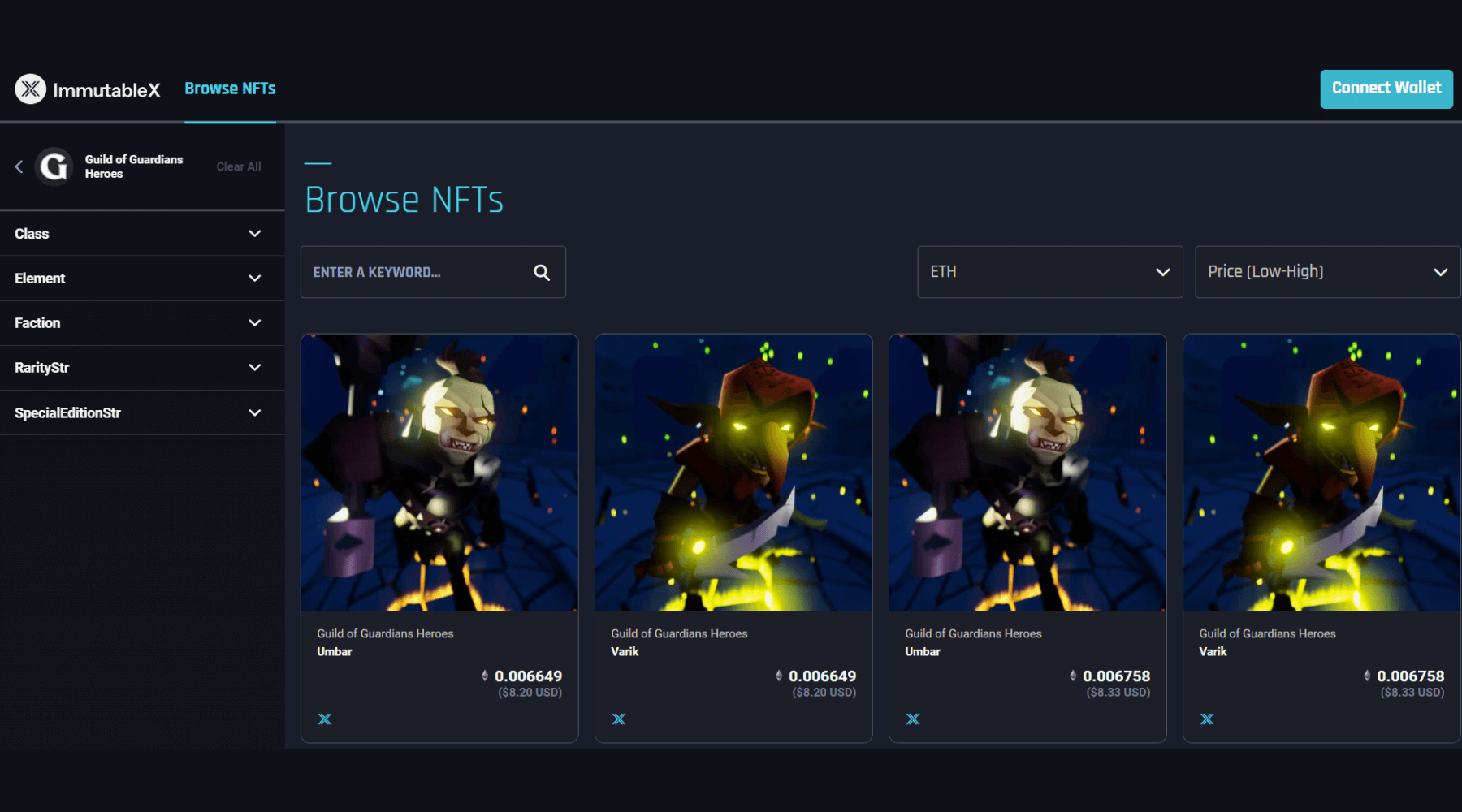 Image source: Immutable X
Compare marketplaces to buy game NFTs
How to sell Guild of Guardians NFTs
Mint Guild of Guardians NFTs to sell on the marketplace, once the game is released.
To do this, connect your Ethereum-based wallet to Immutable X on the Guild of Guardians minting page. We recommend that you use MetaMask since it's widely accepted among secondary marketplaces and the Immutable X market — check out our MetaMask guide for help setting one up.
After minting an NFT, you can trade them on supported marketplaces. If you already have Guild of Guardians NFTs, you can sell them on Immutable X or Tokentrove.
About the Guild of Guardians developers
Guild of Guardians is being developed by a studio called Stepico Games, and is being published by Immutable. The whitepaper states there are over 20 full-time employees working on the game, and many team members have blockchain and traditional game development experience.
Stepico Games is based out of Ukraine, and Immutable is a major blockchain company that's responsible for the major blockchain title Gods Unchained.
Guild of Guardians has some pretty big partners, including Immutable, Ubisoft and the Blockchain Game Alliance (BGA).
Overall, Guild of Guardians has a lot going for it. It's got experienced developers and backing from major blockchain companies, all alongside its promise of a true free-to-play earning model.
Guild of Guardians roadmap
The game is expected to release soon, but at the time of writing, there's no solid launch date. Some features planned as outlined by the Guild of Guardians' whitepaper are:
Sponsorship programs.
Community newsletters and game guides.
eSports tournaments.
Social hubs.
Expansions into metaverse games like Decentraland and The Sandbox.
Guild raids and PvP.
User-generated dungeons.
The Guild of Guardian's Discord can keep you up to date with news as well, and it already has over 100,000 members.
Bottom line
Guild of Guardians is planned for mobile-only, appealing to gamers that enjoy games like Clash of Clans, Defense Zone and Rise of Empires.
Many mobile games thrive on microtransactions, but Guild of Guardians is assuring players that the game is completely free to start playing, and earning capabilities will be skill-based.
We eagerly await more updates surrounding the gameplay and actual earning potential, and will update this page as more news is announced. In the meantime, there are many other play-to-earn crypto games to check out.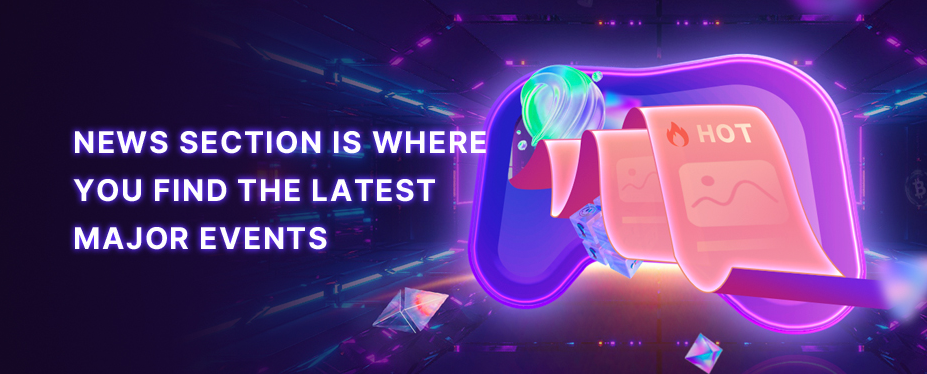 Welcome to P2E GAME
Hearing the echoes from Metaverse.