MARKET CAP :
$5,750,475,873,806
NFT Volume(7D) :
$68,403,145.4
(
#IDO
#GAMEFI
#BLOCKCHAIN GAMES
#NFT COLLECTION
)
Seoul City Hosts 'New Year Accompaniment Festival' at Metabus Seoul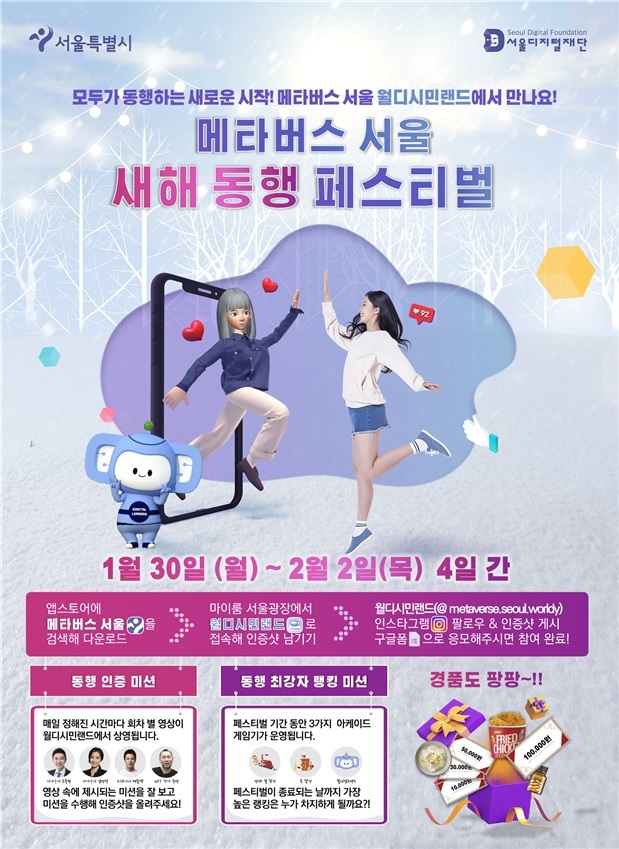 The Seoul Metropolitan Government is holding an event to promote citizen participation in 'Metabus Seoul', the world's first city-level opening.
The Seoul Digital Foundation announced on the 24th that the 'Metabus Seoul New Year Companion Festival' will be held for 4 days from the 30th in the virtual space 'World Citizen Land' in Metabus Seoul.
World-D Citizen Land It is a virtual space where citizens can be together with 'Wold-D', the representative character and robot employee of the Seoul Digital Foundation. You can download the Metaverse Seoul app on the 30th and access it in My Room or Seoul Plaza.
The New Year's Accompaniment Festival will be held in three parts, starting with 'Public Spreading in Advance', 'Companion Certification Mission', and 'Companion Ranking Mission'.
The pre-warning event will be held from the 25th to the 2nd, and you can participate by following World City Citizen Land on Instagram and posting a post promoting the festival on your feed.
Accompaniment certification mission is performed at 11 am every day from the 30th to the 2nd at 11:00 a.m. World City Citizen Land stage video and uploading a certification shot will give you prizes such as vitamins, rice cakes, and chicken through a prize lottery. All four missions If you do, you can win a prize worth 100,000 won through a lottery.
The ranking mission is automatically applied when you play arcade games installed in World DC Citizen Land from the 30th to the 2nd. A total of three games were prepared: 'World Jump Friend', 'Finding Santa's Way', and 'Building Good Fortune'.
For healthy and safe use, citizen supporters will also hold an 'ethics declaration event'.
It will be held at 4:00 pm on the 30th in the video conference room of Metabus Seoul, and general users can watch it live on YouTube of the Seoul Digital Foundation. If you participate in the event through the 'Ethics Guide Portal', a coffee gift icon will be provided to your Metaverse Seoul wallet through a lottery.
Kang Yo-sik, Chairman of the Seoul Digital Foundation, said, "The past year has been a year in which we have laid the groundwork for the stable establishment of Metaverse Seoul through ceaseless efforts such as various pilot services and ethics guide research." I will actively show it," he said.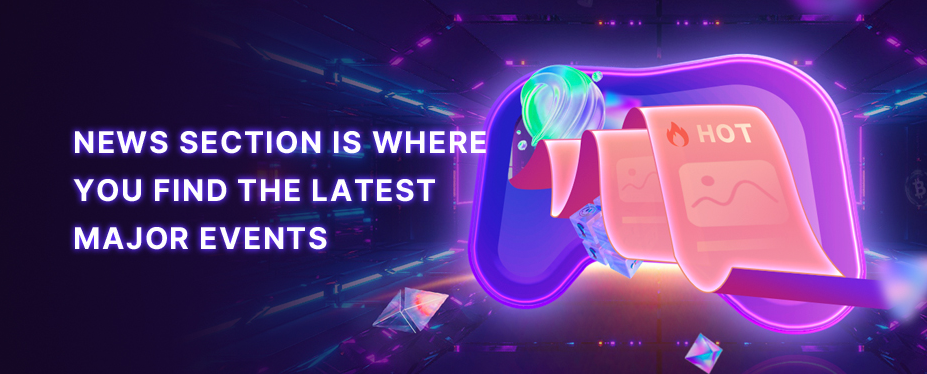 Welcome to P2E GAME
Hearing the echoes from Metaverse.
No corresponding news is found