Impossible Friends Exclusive — Pine Protocol Pop Quiz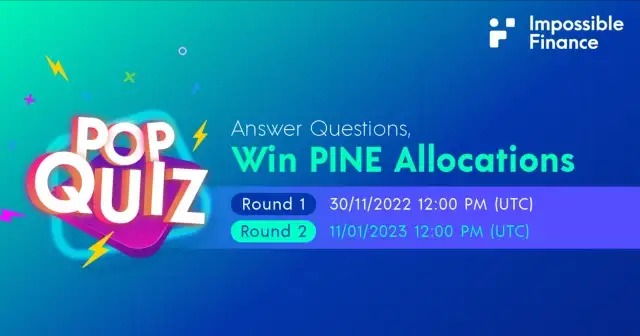 Campaign period: 30/11/2022 & 11/01/2023, 12PM(UTC)
Hello Penguins!
Ready to take on the good old Pop Quiz, but in a new, revamped manner?
After learning about Pine Protocol through our research report and all other Pine Protocol materials, you should now be fit for our Pop Quizzes using our new Impossible Quest platform
Winners will get guaranteed PINE whitelist allocation!
Details of Pop Quizzes:
Pop Quiz will be held in our Exclusive Impossible Quest Platform.
Link for the Quest will be sent to our Impossible Friends Discord Group.
Join our Discord server and go to #start-here to learn how to join the Impossible Friends Discord group.
Members of the group can answer the Pop Quiz questions on the Impossible Quest page within 30 minutes.
For the quiz, you are required to sign in with your KYC-ed wallet address on the Impossible Quest platform.
For each quiz, there will be 10 questions and 15 winners will be randomly selected from the pool of best answers given.
Each lucky winner will win US$100 worth of PINE whitelist allocation.
The Quiz will be conducted on the following days (10 questions per quiz):
30/11/2022 Quiz
11/01/2023 Quiz
Study our research report and all other Pine Protocol materials to get yourselves prepared for the quiz!
About Pine Protocol
Pine protocol is a two-sided decentralized non-custodial protocol that facilitates NFT asset-backed loan transactions between lenders and borrowers. Pine Protocol is pioneering the NFTfi landscape with an NFT loan infrastructure that empowers NFT mortgages, margin trades and other credit-related transactions simply with the power of your held NFT collectibles.
Website | Twitter | Discord | Telegram | Medium
About Impossible Finance
Impossible Finance is the go-to crypto investment platform that empowers you with high-quality, fair and accessible crypto opportunities. We simplify DeFi, so you can enjoy fairer investing, cheaper trading and better yields through our accelerator, launchpad, and swap platform.
Website | Twitter | Discord | Telegram | Medium
Terms & Conditions:
Impossible reserves the right in its sole discretion to amend, change or cancel this announcement and group at any time and for any reasons without prior notice.
Use a self-custodied (Metamask, Trustwallet, etc.) BSC wallet address. Do NOT use an exchange wallet to participate.
This whitelisting campaign is for the PINE IDO. IF token is already available on the open market and can be obtained directly at swap.impossible.finance.
The campaign will generate 30 winners via a Random Draw among the correct answers. Each winner will be eligible to buy US$100 worth of PINE tokens during the IDO event.
A participant can only win up to one whitelist slot for the PINE Token Sale. Winners will need to complete KYC for PINE IDO.
Impossible Finance reserves the right to disqualify bots or fake users prior to a randomized drawing of eligible users who will be whitelisted for the IDO.
Impossible Finance reserves the right to cancel or amend any Activity, Activity Rules or Details at our sole discretion.
This campaign is open internationally, but restrictions due to compliance regulations for different jurisdictions apply. Residents from the United States and OFAC sanction countries are not permitted to join this contest. The team is not responsible for any legal repercussions incurred due to non-compliance of participants. Please consult the respective laws governing your region for the most accurate information.
Risk Warning: Trading and/or generally investing in any cryptocurrency involve significant risks and can result in the complete loss of your capital. You should not invest more than you can afford to lose, and you should ensure that you fully understand the risks involved. Before investing, please consider your level of experience, objectives, and risk tolerance, and seek independent financial and legal advice if necessary. It is your responsibility to ascertain whether you are permitted to use the services of Impossible Finance based on the legal and regulatory requirements of your country of residence and/or applicable jurisdiction(s).
Full disclaimers: Please access this link for the legal notices relating to this document, its content, and the relevant risks.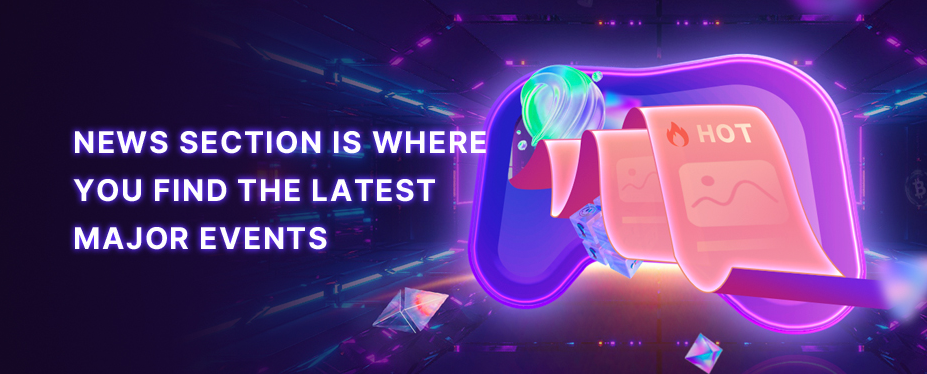 Welcome to P2E GAME
Hearing the echoes from Metaverse.
No corresponding news is found