The fan tokens of the Argentine Football Association will continue to be marketed until 2026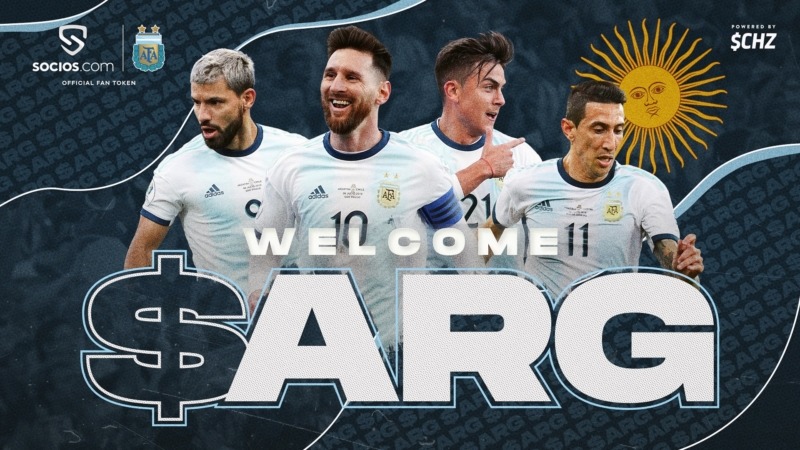 At the end of 2021, after winning the Copa América, the Argentine Football Association (AFA) and Socios.com, had a disagreement regarding the sale of the fan tokens that led to a judicial instance with the need to seek a reconciliation.
However, today it was announced that Socios.com, the company that created sports fan tokens and a world leader in the market, and the AFA, reached an agreement, for which they resume the marketing of fan tokens until 2026.
The CEO of the Chiliz blockchain, Alexandre Dreyfus, made the announcement on Twitter and as part of the renewed partnership, Socios will be tasked with giving "new impetus" to AFA's mission of building an interactive, gamified, and innovation-focused digital ecosystem. Web3.
The Association said in the statement that the efforts will focus on providing fans of the Argentine National Team around the world with new opportunities to interact with the team and opt to win multiple prizes and rewards through the $ARG token.
"We are very pleased to announce the continuation and extension of our commercial agreement with Socios.com. It is important for our Association to continue generating digital income, as in this case the $ARG Fan Tokens, which also allow us to be close to the National Team fans around the world",

expressed in a statement Claudio Tapia, president of the AFA and the Argentine Professional Football League.
The link between AFA and Socios.com is projected to reach the next major tournaments that the National Team will play: the 2022 World Cup in Qatar, the 2024 Copa América that will be played in Ecuador and the 2026 World Cup in North America.
The founder and CEO of Socios, Alexandre Dreyfus, expressed in the statement his enthusiasm for the extension of the agreement:
"AFA's commitment to continue and extend our agreement is great news for Albiceleste fans. As strategic partners, we will constantly work with AFA to create new ways for fans to interact through the Fan Token $ARG."
In May of last year, after its first agreement with Socios.com, the Argentine National Team put its fan tokens up for sale, the digital asset that is revolutionizing the treasuries of teams, leagues and sports on five continents.
The said $ARG fan tokens were great news for Argentinian soccer fans because AFA is the latest addition to Socios.com's ever-growing catalog of big-name sports talent like the Paris Saint Germain, Lionel Messi.
The new $ARG token will be designed and built to run on the Chiliz blockchain; and beyond being able to participate in surveys, fans will be rewarded for their loyalty with free VIP experiences, merchandise and non-fungible tokens.