Introducing the Icetea Labs accelerator program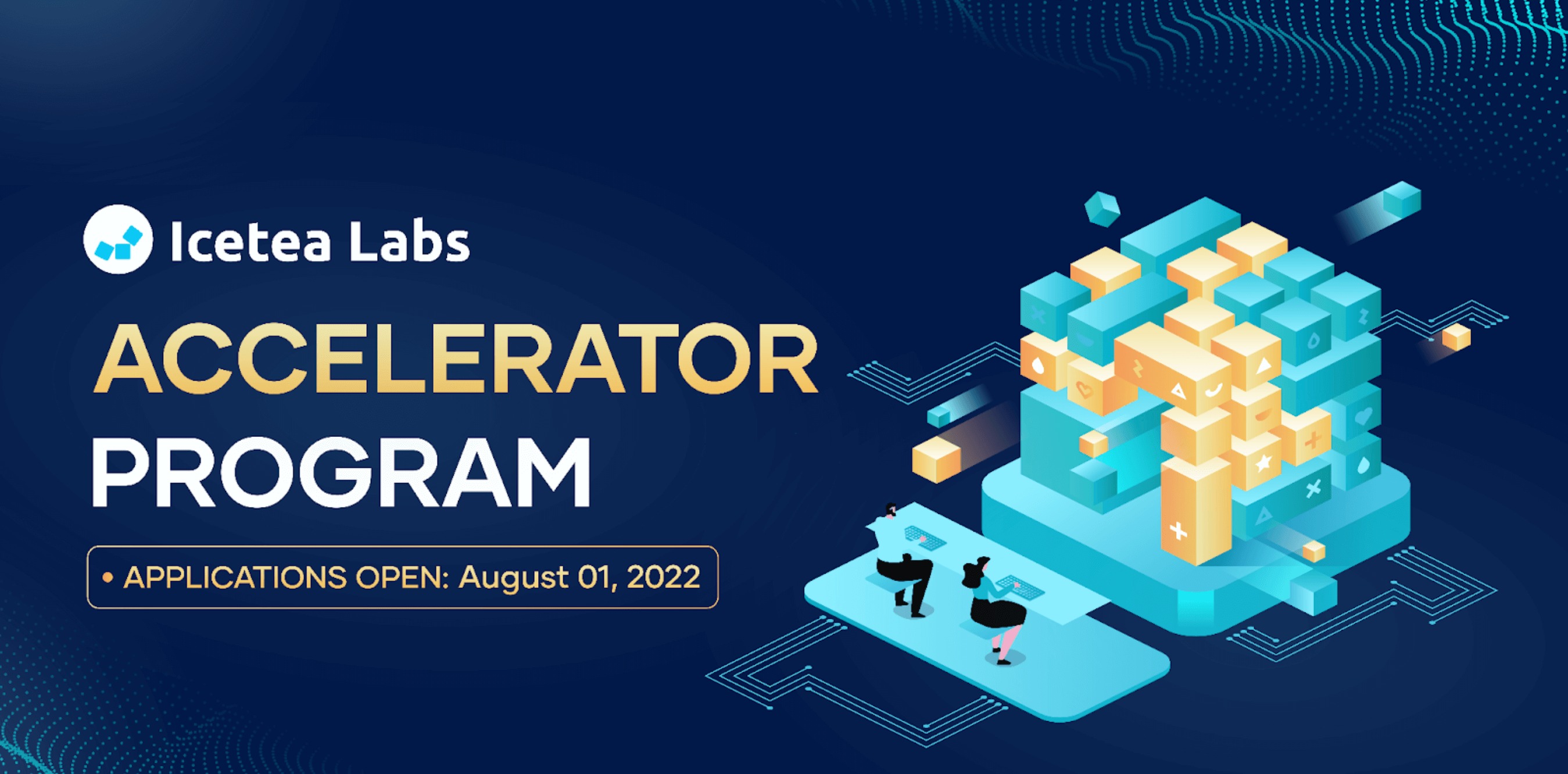 1.WHAT IS THE ICETEA LABS ACCELERATOR PROGRAM?
Icetea Labs Accelerator Program (ILAP) is the 08-week accelerator program that helps Web3 Startups in product/market fit, expansion, and growth. Our focus for this batch is NFT utilities, GameFi, Metaverse solutions, and beyond.
ILAP is powered by Icetea Labs - the resourceful and robust blockchain ecosystem trusted by top-notch global partners and clients. Icetea Labs' ecosystem includes GameFi.org, PolkaFoundry, Red Kite, Mirai Studio, SecuriChain, Metaforce, Desports, and more. Over years experienced in blockchain, Icetea Labs has been incubating 40+ Web3 startups.
2. WHO SHOULD JOIN ILAP?
ILAP is open for any Web3 Startup whose product or service relates to gaming, metaverse, or NFT utilities. Startups at all stages benefit from the contents of ILAP. Early product startups with MVP will benefit most because we can help with technical, ecosystem network, security, business model, and go-to-market strategy. While the later stages project will enjoy advice mostly on marketing, community building, traction growth, funding, and tokenomics.
It doesn't matter where you come from. What world you're building that counts.
3. ILAP APPLICATION PROCESS
The Web3 Startups who want to join our Accelerator Program need to follow the below steps:
Step 01: Fill in the Online Application Form (The Online Application Form will be public on August 01, 2022)
Step 02: After being carefully screened and evaluated, the Web3 Startups who have qualified applications will go to the next round - the Interview round.
Step 03: Six successfully selected Web3 Startups will join and experience ILAP (Selected candidates will be informed one week before the program starts and commit to spending at least 08 hours per week on its activities).
After completing the 08-week program, the qualified Web3 Startups will present and pitch at Showcase Day with 50+ global investors, mentors, experts, and strategic partners!
4. ILAP KEY MILESTONES
Please mark your calendar the following dates:
ILAP Application duration: August 01, 2022 - August 12, 2022
ILAP Accelerator duration: August 29, 2022 - October 21, 2022
ILAP Showcase: November, 2022
5. 08 WEEKS CHALLENGES ROADMAP
With a clear roadmap, the 08-week program is fully crafted and packed with objective-driven content.
Week 00 - from August 29 to September 02 - Kick-off, Ecosystem Overview
Week 01 - from September 05 to September 09 - Audit, Product & Business Model
Week 02 - from September 12 to September 16 - Technical Improvements
Week 03 - from September 19 to September 23 - Security & Attack Prevention
Week 04 - from September 26 to September 30 - Ecosystems Engagement
Week 05 - from October 03 to October 07 - Capital Rising, Fundraising Strategy
Week 06 - from October 10 to October 14 - Legal, Administrator, Internal Process
Week 07 - from October 17 to October 21 - Wrap-ups & Growth Reflection
November, 2022 - Showcase & Demo Day
6. BENEFITS FOR WEB3 STARTUPS JOINING ILAP
Web3 Startups who are selected to join the Accelerator program will receive a lot of attractive benefits:
- Expertise: Accessible to in-depth knowledge, mentors, experts, and global investors in Web3 Business.
- Ecosystem: Accessible to an entire ecosystem of Icetea Labs and its partners that supports a full product development and operation lifecycle.
- Investment: Funding opportunities on showcase day where participating startups pitch to accredited venture capital investors, angels, entrepreneurs, mentors, and partners.
The advantage is not limited to the program course only. Graduated startups will have access to Icetea Lab's Alumni network where we continue to support, give advice, make introductions, form partnerships, and build together.