METADOGE INO – EVERYTHING THAT WE SHOULD KNOW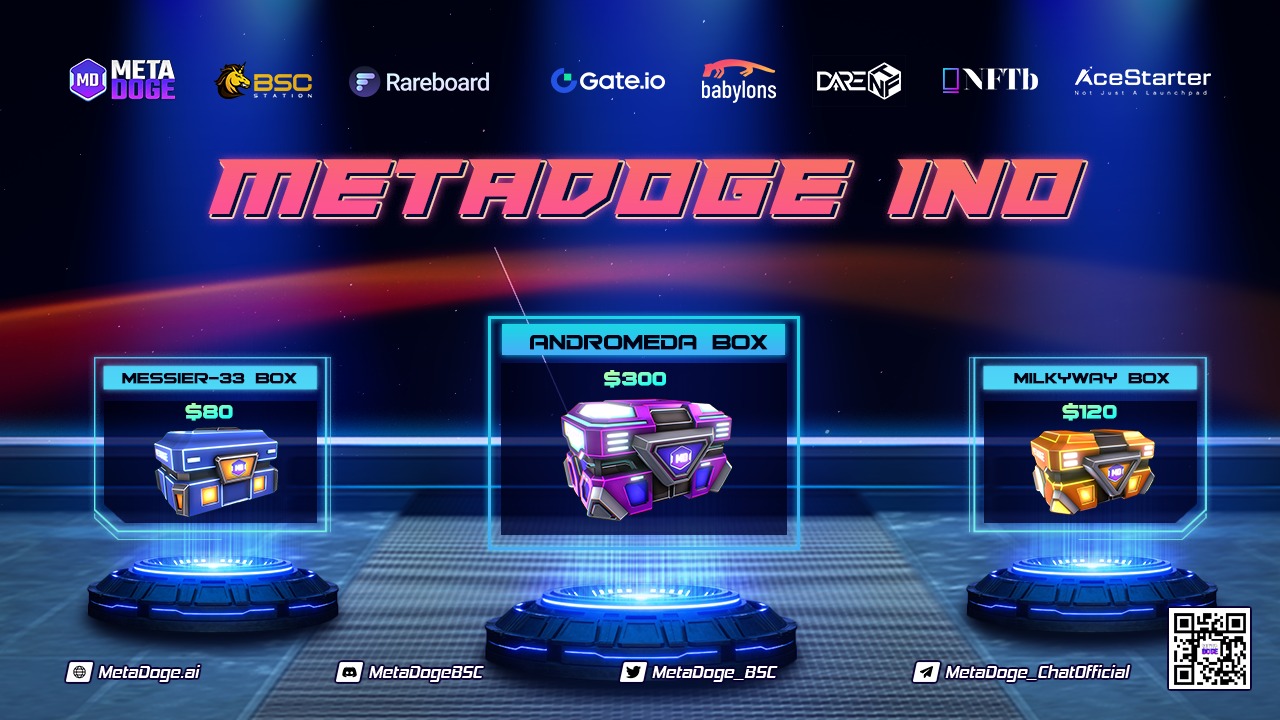 1. What will be sold during MetaDoge's INO
If you have participated in the testnet, you may know that player must buy Mystery Box on the marketplace to open and get the NFT Doge. While the Mystery Box of the INO is almost the same, there are still several differences:
● Instead of just one Mystery Box like in the testnet, there will be 3 Mystery Box to sell during the INO. They are Messier-33, Milkyway and Andromeda.
● There is a rarity level system applied to the boxes. Think of Messier-33 as the common box, Milkyway is rarer and Andromeda is the rarest. The supply for each is different, with Messier-33 taking the most, following by Milkyway and Andromeda.
● The details about the price of each box are in the chart below:
Since each box has different rarity level, it will give different chances to get rarer Doge:
2. When will MetaDoge's INO happen?
MetaDoge will open INO on August 3rd and August 4th on multiple platforms. Depending on each launchpad, the INO time can be different.
3. On which launchpad will MetaDoge's INO go on?
Currently, there are 7 launchpads having confirmation on MetaDoge's INO launch. They are:
4. Does early NFT holder have any benefit?
The people who acquire NFT Space Doge early will be rewarded with various outstanding benefits:
● NFTs can be used for earning in Beta Earn program. The holder will earn BUSD from the liquidity pool, which is taken from 40% of Mystery Box sales. (Beta Earn will be open around 1 week after INO)
● Doge's attributes which are upgraded in the Beta Earn will be maintained and applied in the mainnet version. Hence, besides earning a large amount of BUSD, the NFT Space Doges of the early buyers will be much better than those of the others.
● The higher attributes of the Space Doge, the more advantages of players in both PVE and PVP. It will directly affect the earning rate in the future. (For PVE: Amount of turns; For PVP: Base stats which affect the victory chance.)
● Last but not least, the chance to get NFT Space Doges with higher rarity in this INO is much better than other ways to acquire NFT Space Doges. No other box sales will have the chance to get rarer Doge as high as this.
5. How to buy Mystery Box
The buyers can buy Mystery Box via 2 ways:
Choose your favorite Launchpad
MetaDoge's INO will be launched on multiple launchpads. The early investors can choose their favorite launchpad to buy the Mystery Box.
MetaDoge's official marketplace
The Mystery Box can also be bought from MetaDoge's marketplace. During the sales period, the investors can access the website and follow the guideline to buy. However, remember that it doesn't belong to INO so the chance to get Doge with higher rarity will be much different.
* See our INO Pitchdeck: HERE