BSCStation is greatly happy to announce our newest established partnership with CrypCad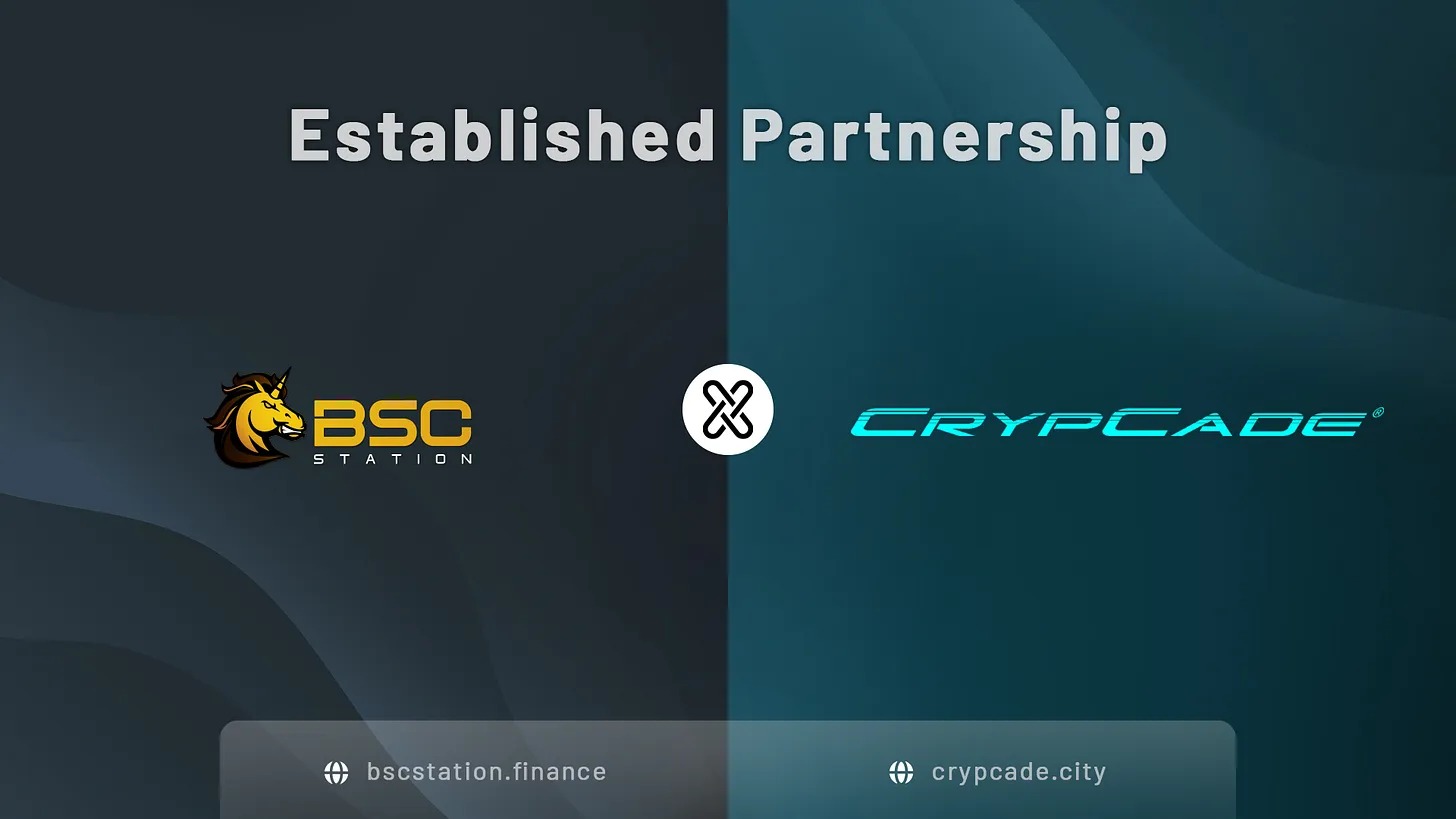 CrypCade is an open fullstack multiverse. Inside the multiverse, one has access to game types such as PvP, multiplayer, PvE, openworld. The goal at CrypCade is to retain the attention of users inside the multiverse, with functions such as arcade, token swap, DAO governance, play 2 earn, multiple sectors and universes, customisable lifestyle, integration other projects into the ecosystem, as well as real-life while maintaining a high-graphic immersive experience.
🤝Through our partnership, BSCStation and CrypCade are going to work together on the following matters:
👉 IDO support: CrypCade will conduct Initial DEX Offering (IDO) and Initial NFTs Offering (INO) on BSCStation Launchpad
👉 Community expansion: Both parties can expand their respective community networks and create greater exposure for native tokens & future development of both projects.
👉 Cross-staking: CrypCade native asset $iCADE will be added to BSCStation's staking protocol.
👉 Co-marketing: Both sides can assist each other in mutual marketing activities such as AMA, giveaway campaigns, etc.
About CrypCade
CrypCade is a functional fullstack open entertainment Metaverse on Blockchain.
The CrypCade City Metaverse is separated into 7 sectors. Each with its own unique environment, challenges and rewards. Within the Metaverse, partner DApps or Crypto Projects will be able to co-build their own DApps and CrypCade users will be able to play their favourite games using the ecosystem's native token.
Exciting PlayToEarn games, try your luck in the 100% provably fair Casino, Race against other players in the HOVER racer game and get rewards daily.
Own a Property or land and get paid revenue.
Hold one of the KEYS and Earn TAX from all the residents in CrypCade city.
Interact with REAL WORLD business.
Highlight Feature:
Crypcade City: Created as different districts with each district having a different atmosphere one can walk, drive or even fly to the next districts. Purchase Plots as NFT and Owner of NFT earn Monthly Income generated from the plot.
CrypArcade : An Arcade consists of various PVE/PVP Games and also people take part in gaming tournaments. Various other games can come inside the Metaverse to give their users Metaverse Gaming experience.
DAO Feature: First Metaverse with DAO Governance in place for eligible token holders to have voting privileges to take important decisions on CrypCade ecosystem.
Development Fund: This fund supports developers to build Engaging games and entertainment Dapp on the CrypCade ecosystem.